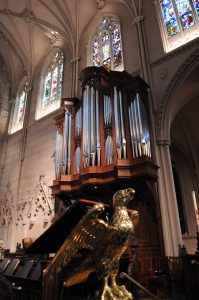 THIS WEEK: ABRACADABRA!
Music at Grace Church in New York
FREE ADMISSION – PUBLIC PROGRAMS:
THURSDAY 11 January at noon.
1. MARCHES, MINIATURES and MORE Part One
Patrick Allen, organ
Henry Purcell (1659-95) – Voluntary for Double Organ in D
S.S. Wesley (1810-76), An Air, Holsworthy church bells
S.S. Wesley, Larghetto in f
From A Little Organ Book (1918)
…..a) Charles Villiers Stanford (1852-1954) –
……….Chorale Prelude on 'why does the azure deck the sky'?
…..b) Alfred Herbert Brewer (1865-1928) – Carillon
…..c) Harold Darke (1888-1976) – Andantino
SS Wesley – Choral Song and Fugue
2. MARCHES, MINIATURES and MORE Part Two
Dr. Barry Rose, O.B.E., organ
THURSDAY 11 January at 8:00 p.m.
Charles Hubert Hastings Parry (1848-1918), arranged by Walter Alcock (1861-1947) –
…..Bridal March (The Birds of Aristophanes – 1883)
Francis Jackson (b.1917) – Arabesque (from Three Pieces – 1955)
Philip Moore (b.1943) – Festival March (1985)
Hymn No.677, verses 1,3 5 and 6 (to be sung by all) – followed by
Clement Charlton Palmer (1871-1944) – Prelude on 'London New' (1910
Alan Ridout (1934-96) – a) Water
…..b) God the Holy Spirit (from 'Canticle of the Rose – 1989)
Grayston Ives (b.1948) – Intrada (1977)
George Thalben Ball (1896-1987) – Elegy in F (A Little Organ Book – 1918)
Malcolm Archer (b.1952) – March – The Royal Standard (2012)
3. MARCHES, MINIATURES and MORE Part Three
Dr. Barry Rose, O.B.E., organ
FRIDAY 12 January at 8:00 p.m.
PROGRAM MARCHES, MINIATURES and MORE Part Three
Gordon Jacob (1895-1984) Festal Flourish (1958)
C.H.H.Parry (1848-1918), Prelude in E flat
Charles Macpherson (1870-1927), Andante in G
…….(both from The Little Organ Book, 1918)
Samuel Wesley (1766-1837), edited by Francis Jackson (b.1917), Voluntary in E, (Introduction & Gavotte)
Hymn (reverse side of program) followed by
Prelude on 'East Acklam' (Francis Jackson – 1984)
Alan Ridout (1934-96), Jacob and the Angel (1985)
Alfred Hollins (1865-1942), A Trumpet Minuet (1909)
Charles Villiers Stanford (1852-1924),
Intermezzo upon an Irish Air (1923)
played by Adam Cobb
Edward Elgar (1857-1934), Vesper Voluntary in F# minor (1888)
Donald Hunt (b.1930), Tomkins' Trifle (1988)
Malcolm Archer (b.1952), Sleigh Bells across the Snow (2008)
4. CLOSING FESTIVAL CONCERT
played by the participants in the Festival with Dr. Barry Rose conducting.
Participants and the Adult Choir of Grace Church forming the Festival Choir.
SATURDAY 13 January at 3:30 p.m.
Let All the World in Ev'ry Corner Sing,
Sir George Dyson (1883-1964)
Todd Beckham, organ
And I saw a new Heaven, Edgar Leslie Bainton (1880 – 1956)
Adam Cobb, organ
"Agnus Dei" from Mass for the Quiet Hour,
George Oldroyd (1887-1956)
Behold, the Tabernacle of God,
Sir William Henry Harris (1883 – 1973)
John Winthrop Brooks, organ
"O pray for the peace of Jerusalem" from I was glad,
Leo Sowerby (1895-1968)
Thomas Baugh, organ
The Appeal of the Crucified from CRUCIFIXION,
Sir John Stainer (1840-1901)
Judith Hancock, organ
Like as the hart, Herbert Howells (1892-1983)
William James Lawson, organ
There's a wideness in God's mercy, Maurice Bevan (1921-2006)
Todd Beckham, organ
PARTICIPANTS in the FESTIVAL
Jane Baugh, Virginia
Thomas Baugh, Virginia
Todd Beckham, Hawaii
John Boody, Virginia
John Winthrop Brooks, Rhode Island
Adam Cobb, Florida
Judith Hancock, New York
Hamilton Moses, Virginia
Paul Olson, New York
Aaron Reichert, Virginia
William James Lawson, New York
ALL PROGRAMS FREE ADMISSION AND OPEN TO ALL
One of the UK's most distinguished and experienced choirtrainers, BARRY ROSE has spent a lifetime in choral music, directing the choirs at no less than three English Cathedrals – Guildford, St.Paul's, and St.Albans – as well as spending 20 years on the staff of the BBC, as their Music Adviser to Religious Broadcasting.
Dr.Rose has been a regular visitor to this country since the early 1970's, when he directed one of the first choirmasters' Conference to be held at St.Thomas Church Fifth Avenue, and has led many choral workshops, courses and services including those of the Royal School of Church Music in America and here at Grace Church in New York.
During his ten years at St.Albans, the Cathedral choir visited the USA no less than 5 times, and on their last visit (before he 'retired' in 1997) they sang a memorable concert here in Grace Church, with guest organist Peter Richard Conte. In the past seventeen years, at Dr.Allen's invitation, Dr.Rose has renewed his contact with Grace Church with this month marking the tenth occasion he has conducted the combined novice and junior boy and girl choristers in the Annual Concert of Music for Treble Voices and the "Whiting" of Novices. He recently completed a set of Sacred Songs "Songs for Grace" specially written for them and premiered at that Annual Concert Festival. He was also honoured to be invited as guest conductor of the Combined Choirs of Grace Church in New York at the Opening Concert (Inauguration) of the Bicentennial Organ in April 2013.
ABRACADABRA, Dr.
Barry Rose, OBE, Organ Accompanying Workshop and Concerts