Music at Grace Church in New York
Music at Grace Church in New York

Special Musical Events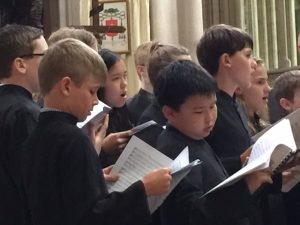 Tuesdays at 6:00 p.m.
Choral Evensong is offered by the Junior Choristers of the Grace Church Choirs each Tuesday that Grace Church School is in session. This gentle evening prayer office is open to all and lasts approximately 30 minutes.
The 2017-2018 Season of Tuesday Choral Evensong has concluded. Thank you for all your prayers and kindness.
The 2018 – 2019 Season will begin on Tuesday 2 October at 6:00 p.m.
2018-2019 SEASON
2018 – 2019 Program Announcement Flyer
Sunday Afternoons at 4:00 p.m. unless otherwise noted
9 September
The Weekend Organ Meditation Series Resumes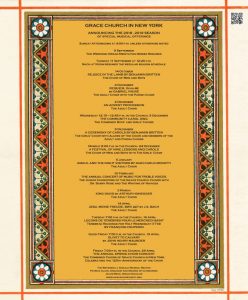 Tuesday 11 September at 12:20 p.m.
Bach at Noon resumes the regular season schedule
14 October
REJOICE IN THE LAMB by BENJAMIN BRITTEN
The Choir of Men and Boys
4 November
REQUIEM, Opus 48
by GABRIEL FAURÉ
The Adult Choir with the Parish Choir
2 December
ADVENT LESSONS AND MUSIC
The Adult Choir
Wednesday 12:15 – 12:45 p.m. in the Church, 5 December
THE COMMUNITY CAROL SING
The Combined Boys' and Girls' Choirs
9 December
A CEREMONY OF CAROLS by BENJAMIN BRITTEN
The Girls' Choir with Alumni of the Choir and members of the
Adult and Parish Choirs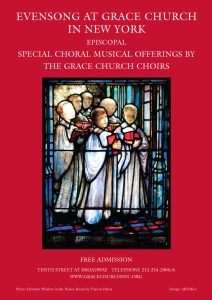 Monday 8:00 p.m. in the Church, 24 December
A FESTIVAL OF NINE LESSONS AND CAROLS
The Choir of Men and Boys with The Girls' Choir
6 January
AMAHL AND THE NIGHT VISITORS by GIAN CARLO MENOTTI
The Adult Choir
10 February
THE ANNUAL CONCERT OF MUSIC FOR TREBLE VOICES
The Junior Choristers of the Grace Church Choirs with
Dr. Barry Rose and The Whiting of Novices
3 March
KING DAVID by ARTHUR HONEGGER
The Adult Choir
14 April
JESU, MEINE FREUDE, BWV 227 by J.S. BACH
The Adult Choir
Tuesday 7:00 p.m. in the Church, 16 April
LEÇONS DE TÉNÈBRES POUR LE MERCREDI SAINT
Tenebrae Readings for Holy Wednesday (1714)
by FRANÇOIS COUPERIN
Good Friday 7:00 p.m. in the Church, 19 April
OLIVET TO CALVARY
by JOHN HENRY MAUNDER
The Adult Choir
Friday 7:00 p.m. in the Church, 26 April
THE ANNUAL SPRING CHOIR CONCERT
The Combined Choirs of Grace Church in New York
Celebrating the 125th Anniversary of the Choir