Organ Meditations are offered each Saturday & Sunday afternoon in the Church at 4p.m.  These informal programs take place between Labor Day and Memorial Day each year. The 2014 – 2015 Season
began on Sunday, September 7th, 2014
and will run through Sunday, May 24, 2015.
CLICK HERE FOR THE 2014 – 2015 POSTER

CLICK HERE FOR INFO POSTCARD 2014-2015
To see examples of the diverse programs offered please click here.
Please note that on occasion programs will not take place due to special liturgical or school observances. These schedule changes will be announced on the website and at the church as appropriate.
If music be the food of love, play on!
Admission is free, but if you can, bring a dry good donation to help feed the hungry of our City.
To see daily programs to be played please click here.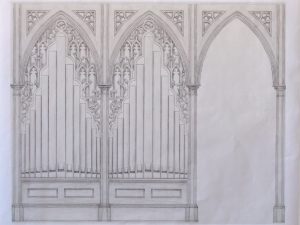 SAVE THE DATE: A Special Musical Offering!
Saturday 18 April 2015
2:00 o'clock p.m.
GRACE CHURCH IN NEW YORK
Presents
Delbert Disselhorst, Organist
In Concert
Celebrating the legacy of great master musicians and pedagogues
David Craighead and Russell Saunders
On The Bicentennial Organ
Opus 65, Taylor and Boody Organbuilders
Admission $20.00
CLICK HERE for the 18 April Organ Concert Poster
Delbert Disselhorst was a member of the University of Iowa faculty from 1970 to 2008. He holds both the Bachelor of Music degree and Master of Music degree in organ from the University of Illinois. As a recipient of a Fulbright grant, he studied at the Hochschule für Musik in Frankfurt am Main, Germany, where he was a student of Helmut Walcha.
He earned the Doctor of Musical Arts degree from the University of Michigan where he was awarded the Palmer Christian citations as a distinguished graduate of the organ student. His teachers include Jerald Hamilton, Mildred Andrews Boggess, Marilyn Mason and Russell Saunders. He also coached with Catharine Crozier and Michael Radulescu.
As a concert artist, Disselhorst has performed in the United States, Canada, Europe and Korea. He has been a featured recitalist for regional conventions and a national convention of the American Guild of Organists. His recordings include works by Rorem and Pinkham for the Arkay label and the Harmonische Seelenlust of G.F.Kauffmann for Pro Organo Records. He has most recently completed for Naxos records two volumes of chorale preludes by Helmut Walcha. These were released in 2013.
For the 2011-2012 academic year he was visiting Professor of Organ at the University of Notre Dame.