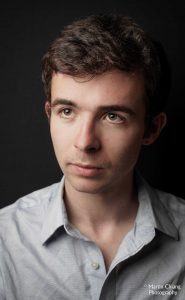 Join us as Grace Church welcomes organist
John Walthausen, as guest artist for Bach at Noon on Tuesday 30 January at 12:20 p.m.
Program:
Pièce d'orgue, BWV 572
Sonate in c, BWV 529
Praeludium und Fuge in G Dur, BWV 541
Born in 1991 in New York, John Walthausen began his musical studies with the piano at the age of eleven and discovered the organ several years later. He attended Oberlin college, studying the organ with James David Christie and the harpsichord with Webb Wiggins. Upon obtaining his Bachelor's Degree, he was elected to Pi Kappa Lambda, the national honor society for musicians. In 2011, he gained admission to the Conservatoire National Superieur de Paris, where he studied the organ with Olivier Latry and Michel Bouvard, earning a Master's with highest honors ("mention tres bien") in June 2013. In 2015, he received a Master's in historical keyboards from the Schola Cantorum of Basel, Switzerland, where he studied harpsichord with Jörg-Andreas Bötticher and organ with Lorenzo Ghielmi.
An experienced performer, he has played recitals throughout Europe and the United States in cities including Paris, Chartres, Poitiers, Milan, Innsbruck, Basel, New York, Boston, Cleveland, Albany, and Washington D.C. He has additionally presented recitals at the Oberlin Messiaen Festival, the Pacific Baroque Festival, Paris-des-Orgues, the Toul Bach Festival, and Internationale Meisterorganisten in Innsbruck. From 2015 to 2016, John served as Organist in Residence at Sapporo Concert Hall in Hokkaido, Japan. He is currently serving as Interim Organist and Choirmaster at St. Andrew's Episcopal Church in Glenmoore, Pennsylvania.