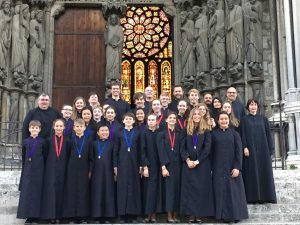 PLEASE SUPPORT THE CHOIRS' ANNUAL JUNE RAFFLE to benefit the Choir Special Projects Fund!
You can purchase a raffle ticket beginning June 3rd at coffee hour after the 11 am service, or from any choir family or chorister. This year you may also buy your tickets online
The raffle includes many amazing items such as dinner or brunch at La Palapa, fine wines, Apple Airpods, tickets to Shakespeare in the Park, beautiful jewelry, and also child friendly items such as walkie talkies and a drone.
This fund supports activities and opportunities for the choirs that are not covered by the annual budget including additional vocal training, guest musicians, and the upcoming trip to Spain.
Tickets are $5 and $10. Winners will be selected on June 10th at the parish picnic.
Thank you for all your prayers and support.