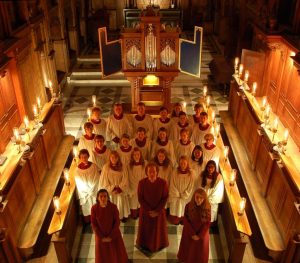 Grace Church in New York welcomes the Choir from Sidney Sussex College, Cambreidge, UK on Wednesday 11 July.
The Choir will sing a concert at noon in the Church and sing again for the Six o'clock p.m. Eucharist. This week the Eucharist will take place in the main church rather than the Chantry. The choir will open the service with a choral prelude at 5:40/5:45 so come a little early.
The Concert is free admission and we ask you to consider bringing a dry good to help stock the food closets of the neighborhood. There are so many in need. "If music be the food of love, sing on" Your dry goods such as peanut butter, tuna fish, beans, etc., can be placed in the baskets in the narthex of the church.
IN CONCERT
Sidney Sussex College Choir, Cambridge, UK
Wednesday 11 July 2018 at Noon
Dr. David Skinner, Director of Music
Laurence Carden and Jim Cooper, Organ Scholars
Hugh Rowlands, Organ Scholar Elect
Works drawn from the tour repertoire including J.S. Bach, Bairstow, Dall'Abero, Dove, Handl, Harris, Howells, Lheritier, Marsh, Parry, Ramsey, Rutter, Stainer, Tavener, and Weelkes
Choral Prelude at 5:45 p.m. prior to the Six O'clock P.m. Eucharist in the Church.
Funeral Ikos…….Taverner
Surrexit pastor bonus…….Lheritier
Parvulus filius…….Dall'Albero
Choral Voluntary at the conclusion of the service.
Rejoice in the Lord alway…….Purcell
Sidney Sussex College Choir Flyer
[ezcol_1half]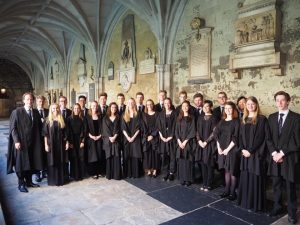 [/ezcol_1half] [ezcol_1half_end]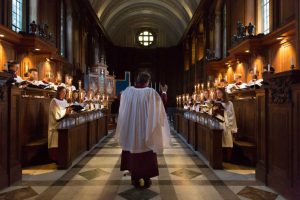 [/ezcol_1half_end]
It is thought that a dedicated chapel choir at Sidney Sussex must have existed in some form since the foundation of the College on Valentine's Day 1596. Since the admission of women to the college in 1976, the Choir of Sidney Sussex has blossomed into one of the most esteemed choral groups in Oxbridge. In 2009, the American composer Eric Whitacre was appointed as Sidney Sussex's first Composer in Residence; in 2015, that mantle was assumed by British composer and Choir alumnus Joanna Marsh.
The Choir regularly performs at home and abroad. Recent overseas engagements have included tours to California, East Coast USA, Dubai, Jordan, the Italian Riviera and Madrid. The Choir are delighted to be returning to the East Coast this July and give concerts in Virginia, Baltimore, Philadelphia, New York, Cape Cod and Boston. The Choir has made a niche in making professional recordings for specialist markets, including museums, art galleries, and national libraries. Their first recording with the new early music label Obsidian, Thomas Tomkins 'These Distracted Times', was awarded Editor's Choice and CD of the Month in the Gramophone, and they have since gone on to record and tour a number of innovative programmes. The Choir's most recent disc, 'Polyphonia in Excelsis, sacred music by Claudio Dall'Albero' (Resonus Classics) received glowing reviews upon its release in 2017: "David Skinner leads his young singers skilfully through these testing yet pleasing pieces that are both refreshingly new and comfortingly familiar."(The Observer)