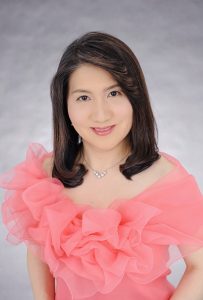 Join us as Grace Church welcomes organist
Naoko T. Maeda as guest artist for Bach at Noon on Tuesday 19 March at 12:20 p.m.
PROGRAM
Pièce d'orgue (Fantasia in G major) BWV572
O Mensch, bewein dein Sünde gross BWV622
Prelude and Fugue in E-flat major BWV552
Naoko T. Maeda is organist of Kobe College and Toyonaka Church in Osaka, Japan. She is now giving organ lessons regularly at Kobe College, at Toyonaka Church and at Osaka Johoku Church.
An organ student of Keiko Inoue and Frans Boon, and piano student of Yoko Ikeda, she holds BA from the school of Music, Kobe College. In Berkeley, California, from 1989 to 1991, she studied organ with University Organist, John Butt, and she was organist of Grace Institute for Religious Learning. She performed with the U.C. Berkeley Symphony Orchestra and concertized throughout the Bay Area (Old St. Mary's Church, St. Ignatius Church and St. Mary's Cathedral in San Francisco, and Grace Institute in Berkeley). She was chosen as one of 25 competitors in National Young Artists Competition in Organ performance (1993/1994) held by American Guild of Organists.
As organ soloist, she has played with Kyoto University Symphony orchestra in Kyoto, Osaka and Tokyo and had the honor of premiering the new Klais organ at Kyoto Concert Hall at the opening concert with Kyoto Symphony Orchestra in Mahler's Symphony No.8. She frequently appears as an organist in the concerts with Arcadia Orchestra. Active as a recitalist, she appears in the concerts at Kyoto Concert Hall, The Symphony Hall in Osaka, Izumi Hall in Osaka, and many others in Japan. In 1995, 2003, 2008, 2014 and 2017 she visited California and played solo concerts at National Shrine of St. Francis of Assisi and St. Mary's Cathedral in San Francisco, St. Stephen's Church in Belvedere, and at Grace North Church in Berkeley. In 2012 she visited UK and played recitals at Newton St Cyres Parish Church in Exeter, at King's College Chapel in University of Aberdeen and at Memorial Chapel in University of Glasgow. She also performed in Exeter Cathedral, in St. David's Church, Exeter and in Pembroke College, Cambridge. In 2017 she was given a chance to play Bach at Noon at Grace Church in New York and play a recital at St. Matthew Trinity Lutheran Church in Hoboken. In 2018 she performed at St. George's Church in Penang, Malaysia. This time she is visiting the US to play Bach at Noon at Grace Church in New York on March 19, and play for meditation at Church of St. Ignatius Loyola in New York on March 22.