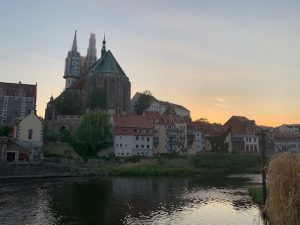 Greetings from Amsterdam!
The time is flying…..
When I arrived they were in the middle of a stifling heat wave that broke the night before my first concert in Görlitz, Germany. This beautiful ancient town escaped bombing during World War II and has an old center featuring many fourteenth and fifteenth century buildings.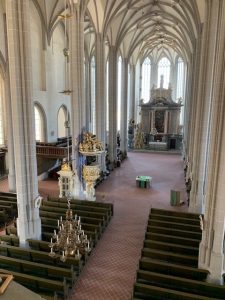 The City Church of Saint Peter and Paul has foundations from the twelfth century. The current church was finished in the 15th century with the west towers being added in the 19th century. One of Bach's students was organist here when in 1703 a new organ was built. The fanciful case with 17 sun faces surrounded by organ pipes gives the organ it's name, Die Sonnenorgel and the town has been famous for it ever since.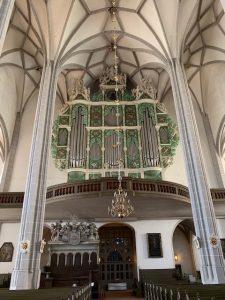 Over the years the organ was changed until in 1997 a new modern organ inspired by the 1703 design was installed behind the original case. I met the organist after a Bach at Noon in Grace Church two years ago. He came back to our choir's offering of the Brahms Requiem the next Sunday and following that invited me to offer it with his choir to celebrate a new concert hall organ in Neu-Brandenburg, we have been friends ever since. He and his choir are such lovely people and the congregation so welcoming and kind. It was a joy to be in church with them.
After returning to Amsterdam I offered a concert in the Church of Saint Nicholas in Edam. The organ was built by "Father" Bernard Smith in 1663. The church dates from the 15th century and has a beautiful collection of seventeenth century stained glass celebrating Edam's fame as ship builders. The windows were given by the major cities of the Netherlands to celebrate the rebuilding of the church after a horrible fire. Father Smith went on to be one of the most important organ builders in England, Henry Purcell played his instruments that included one for Saint Paul's Cathedral, London. His cases can still be seen there today.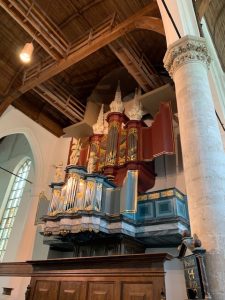 This is the third time I've played for them. This year a repertoire of mostly 17th century French music called "A movable feast." My nod was to Hemmingway with a smile, but as the program was on the 14th of July everyone enjoyed the connection with the date. It is a privilege to offer music on an instrument contemporary with the time of the compositions being realized. A very special gift, I learn so much and am inspired by the preparation and offering.
I wish you and yours a safe and beautiful remainder of the summer. It's going to be an amazing year, get ready. I can't wait to hear you sing with passion on 8 September.
Remember, Jesus loves you! All my love and God bless, Patrick