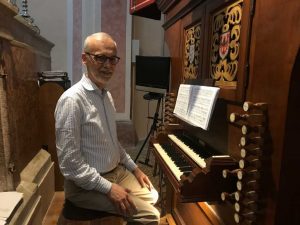 Join us as
Grace Church in New York
welcomes organist
Dr. Stephen Rapp
as guest artist for
Bach at Noon
Tuesday 24 September at 12:20 p.m.
FREE ADMISSION
If music be the food of love, play on!
Admission is free, but if you can,
bring a dry good donation to help feed the hungry of our City.
Please consider making a donation to help support keeping the doors open, the lights on and the music flowing at Grace Church. It takes a community to care for a community. We are very grateful for all your love, kind words, prayers and support. Give to support Bach at Noon
PROGRAM
Sei Lob und Ehr mit hohem Preis, BWV Anh. II 62a
Cantus firmus in Basso
Jesu, meine Freude, a 2 Clav. et Pedale, BWV Anh. II 59
Was Gott tut, das ist wohlgetan, a 2 Clav. et Pedale, BWV Anh. II 67
Fantasia et Fuga in c-moll, BWV 537
Canon über einen unbekannten Cantus firmus, BWV Anh. II 72
Liebster Jesu, wir sind hier, a 2 Clav. et Pedale, BWV 731
Meine Seele erhebt den Herren, BWV 733
Fuge über das Magnificat, pro organo pleno
Dr. Stephen Rapp
Hailed by the New York Times for a "sterling performance," STEPHEN RAPP has toured as soloist and collaborative artist at the organ, harpsichord and piano throughout much of the US and Europe as well as in India, Japan and Bolivia.
Dr. Rapp holds degrees from the Eastman School of Music including the coveted Performer's Certificate, and the Yale School of Music and Institute of Sacred Music. He attended the Cologne Conservatory under a grant from DAAD (German Academic Exchange Service). Further keyboard studies have been with Harald Vogel, Elisabeth Wright, Edward Parmentier and Roberta Gary.
Music Director and Organist at the Church of Our Lady of Mt. Carmel in the Bronx since 2016, Stephen served previously at St. John's Lutheran Church, Stamford, Connecticut and Christ's Church (Episcopal), Rye, New York. He has also been Assistant Organist of the Cathedral of Saint Patrick, New York for the past six years at all weekday and Saturday morning Masses that are broadcast on Sirius XM radio and local-access cable TV.
His recordings as soloist and continuo player are available on the Raven Musical Heritage Society and BREVE labels.
Dr. Rapp has been an adjudicator for the Fulbright Commission and for the American Guild of Organists' NYACOP Competition. He has performed and lectured for AGO chapters andconventions as well Association of Lutheran Church Musicians conferences and the Valparaiso Liturgical Institute.