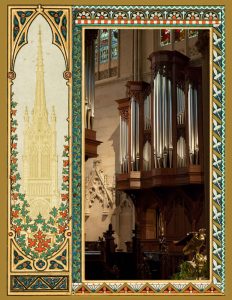 Thank you everyone who supported Bach at Noon and the Weekend Organ Meditations this season.
Some 200 programs of the great repertoire of the pipe organ were offered between Labor Day and Memorial Day Weekends!
This season was unique due to the onset of the pandemic, programs moved Live on Facebook while the church buildings are closed.
You are invited if so moved to help continue these offerings by making a gift by using this link. Your gifts help keep the offerings broadcasting. The whole community is grateful for your support.
The summer season of Bach at Noon will run each Wednesday from 12:20 – 12:50 p.m. 30 May through 5 September.
While the church is closed due to the pandemic, programs will be found Live on Facebook – Grace Church in New York
The 2020 – 2021 Season of Bach at Noon will begin on Tuesday 15 September at 12:20 p.m.
The 2020 – 2021 Season of the Weekend Organ Meditations – Hymns from Grace will begin on Sunday 13 September at 4:00 p.m.
Please watch the website for announcements about the status of the building. While the building remains closed, all programs will be live on Facebook – Grace Church in New York
If music be the food of love, play on!
The musical offerings are a gift,
pass it on if you are able,
make a donation to your local food pantry to help feed the hungry of our City.
Have a safe and beautiful summer.