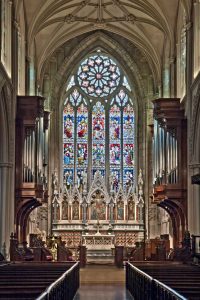 Hymns from Grace will feature special musical offerings during the Lenten season culminating with Palm Sunday afternoon.
Tune in live on Facebook each of these Sunday afternoons with your Hymnal 1982.
Enjoy the musical offerings and sing along with the hymns.
Make it a special Lenten devotion and time of prayer.
Featuring Guest Artists and the Adult Choir
February 21 – A.J. Stetson, baritone
From Libro quarto (1656)…….Johann Jakob Froberger
Ricercar in d, FbWV 407
Hymn 120, The sinless one to Jordan came…….SOLEMNIS HAEC FESTIVITAS
From Elijah, Draw Near All Ye People & Lord God of Abraham…….Felix Mendelssohn – Bartholdy
When in the hour of utmost need, BWV 641……Johann Sebastian Bach
From St. Paul, O God, Have Mercy…….Mendelssohn
From Libro quarto (1656)……. Froberger
Ricercar in g, FbWV 408
Hymn 121, Christ, when for us you were baptized…….CAITHNESS
How Great Thou Art……. Carl Boberg – Stuart K. Hine / Swedish Folk Song
I call to Thee, Lord Jesus Christ, BWV 639…….Bach
From Dettingen Te Deum, Vouchsafe, O Lord…….George_Frideric_Handel
Hymn 150, Forty days and forty nights…….AUS DER TIEFE RUFE ICH
From A Quaker Reader, "There is a Spirit That Delights to Do No Evil"…….Ned Rorem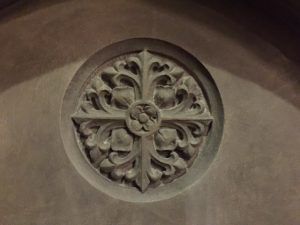 February 28 – Amy Bartram, soprano
Rock of ages…….Toplady/Hastings
Vivace from Sonate in c-moll, BWV 526…….Johann Sebastian Bach
The Lord's Prayer……. Albert Hay Malotte
691, My faith looks up to thee…….OLIVET
Panis Angelicus……. César-Auguste Franck
Le Jardin suspendu by Jehan Alain (1911-1940)
456, O Love of God, how strong and true…….De Tar
LEVS II, 103, Steel away……Traditional Spiritual
Largo from Sonate in c-moll, BWV 526…….Johann Sebastian Bach
My Shepherd will supply my need…….Virgil Thomson
707, Take my life, and let it be…….HOLLINGSIDE
Allegro from Sonate in c-moll, BWV 526…….Johann Sebastian Bach
A grateful heart…….Mary Plumstead
March 7 – Jennifer Gliere, soprano
March 14 – Laetare Sunday
The Adult Choir of Grace Church in New York
Ave verum…….Wolfgang Amadeus Mozart
Remember not, Lord, our offences…….Henry Purcell
Magnificat quarti toni
Orgue. Magnificat…….Jehan Titelouze (c.1562/3-1633)
…..From Le Magnificat (1626)
Chœur. Et exultavit…….Nicolas Formé (1567-1638)
…..Edition of the Choral setting by Lenora McCroskey, DMA, Professor emeritus, The University of North Texas
O. Quia respexit…….Jehan Titelouze
C. Quia fecit mihi magna…….Nicolas Formé
O. Et Misericordia ejus…….Jehan Titelouze
C. Fecit potentiam…….Nicolas Formé
O. Deposuit Potentes…….Jehan Titelouze
C. Esuriantes implevit…….Nicolas Formé
O. Suscepit Israel…….Jehan Titelouze
C. Sicut locutus est…….Nicolas Formé
O. Gloria Patri et Filio…….Jehan Titelouze
C. Sicut erat in principio…….Nicolas Formé
Let the people praise thee, O God, Op. 87…….William Mathias
Cantique de Jean Racine, Op 11…….Gabriel Fauré
English text by Harold Heiberg
March 21 – Peter Gruett, tenor
March 28 – Palm Sunday
The Adult Choir of Grace Church in New York
Pange linqua
Orgue. Pange linqua, en Taille à 4……Nicolas de Grigny (1672-1703)
…..From Livre d'orgue (1699)
Chœur. Nobis datus…….Marc-Antoine Charpentier
…..Edition of the Choral setting by Lenora McCroskey, DMA, Professor emeritus, The University of North Texas
O. Fugue à 5……Nicolas de Grigny
C. Verbum caro…….Marc-Antoine Charpentier
O. Récit du Chant de l'hymne précédent……Nicolas de Grigny
C. Genitori…….Marc-Antoine Charpentier
Amen