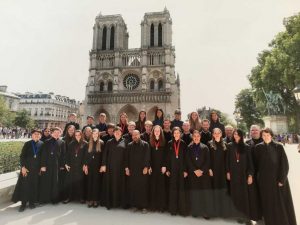 THE ANNUAL SPRING CHOIR CONCERT with the Men and Boys,
Girls', High School Singers
and Adult Choirs
takes place on Friday,
April 29th at 7 pm.
The program celebrates music by that will be featured on this summer's concert tour to Ireland.
The Choir will be singing in Belfast and Dublin between June 17 and 24.
Works by Beethoven, Burleigh, Byrd, Duruflé, Mozart, Palestrina, Rose, Stainer, Stanford and Tallis among others will be offered.
The concert is free and open to all.
There will be a festive reception in the Huntington Close following the concert to benefit the Choir Special Projects Fund.

This fund helps with Tour expenses and other opportunities for the choirs.
You can make donations to support the Fund and to attend the reception on the Church Website..
Please write Choir Concert Reception Donation in the comment portion.
Live Stream Link for the Concert
Live Stream Link 2 for the Concert