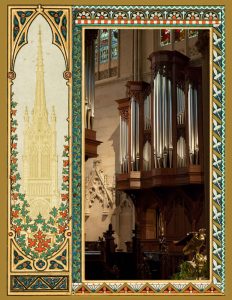 The 2021-2022 Season of Bach at Noon has come to a close.
Thank you for all your kindness, love and support throughout this
first season back after the pandemic closings.
Over the summer go to the new Grace Church in New York Organ Meditation Channel on YouTube to listen to archived programs. music.gracechurchnyc.org/orgmed
Beginning 13 September this channel will be the new real time on line viewing location for the organ meditations.
The Church will be open for live presence from noon to five and you may also come attend the offerings in person.
Have a safe, healthy and beautiful summer season.
God bless you and yours.