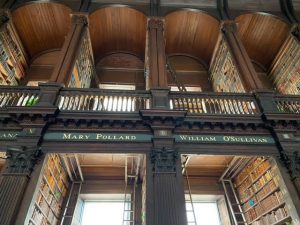 After a lovely breakfast at the hotel the choir was on the bus for a tour of the inner city of Dublin.
We spent time at the Trinity College Library and saw the moving "Book of Kells." Dating from around 800 A.D. The book is actually four books, the Gospels of Matthew, Mark, Luke and John. It took over one hundred years for the monks to create their version of the Gospels and it is considered one of Ireland's greatest treasures. Today it was open to the Gospel of John and the story of the "Good Shepherd."
After a little more touring of the city and a visit to the Phoenix Park we arrived at Saint Patrick's Cathedral. Founded in 1191, it is currently the national cathedral of the Church of Ireland.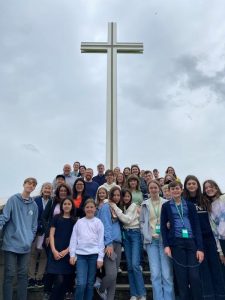 We vested and offered our first program of the tour in this very beautiful and moving space. It was such a privilege to sing here.
PSALM 24. Domini est terra……..Anglican Chant (Barnby)
REJOICE IN THE LORD…….Anonymous (16th Century)
THE HEAVENS ARE TELLING, OPUS 48/4…….Ludwig van Beethoven (1770-1827)
UBI CARITAS…….Maurice Duruflé (1902-1986)
IF YE LOVE ME…….Thomas Tallis (c.1505-1585)
UKRAINIAN PRAYER…….John Rutter (b.1945)
GOD SO LOVED THE WORLD…….John Stainer (1840-1901)
LOVE'S ENDEAVOUR, LOVE'S EXPENSE…….Barry Rose (b.1934)
STEAL AWAY…….African-American Spiritual, Harmonized and Arranged by
H.T. Burleigh (1866-1949)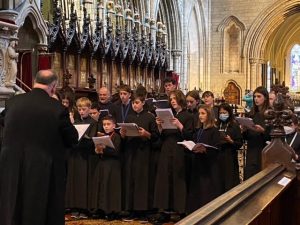 HAEC DIES…….William Byrd (c.1543-1623)
SICUT CERVUS…….Giovanni Pierluigi da Palestrina (c.1525-1594)
OVER THE RAINBOW…….Harold Arien (1905-1986), arr. Darin Lewis
THE VIRGIN MARY HAD A BABY BOY…….arr. Robert De Cormier (1922-2017)
West Indian Spiritual
PSALM 150. Laudate Dominum…….Anglican Chant (Talbot)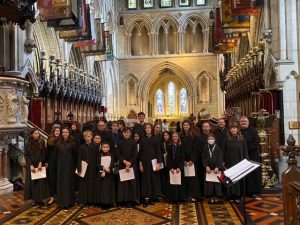 Following the program we had time for lunch and then were off to EPIC, The Irish Emigration Museum. An amazing experience on the history of the Irish diaspora and emigration to other countries.
After a sit down at the Hotel, we were off to an evening at The Merry Ploughboy and a yummy meal accompanied by Irish Music, Song and Dancing. Party on……..
"Now I lay me down to sleep," a good night's rest and tomorrow is another day, Sunday!
A very good day today. Thanks be to God.