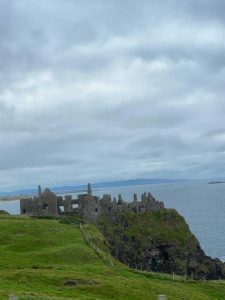 From Carmela Ciuraru
"After an early breakfast, we boarded the bus for our scenic northward journey along the Antrim coast. We were headed to the famed Giant's Causeway, owned and managed by the National Trust, and Northern Ireland's sole World Heritage Site. Along the way, among sightings of many, many horses, sheep, cows, and a donkey or two, we enjoyed views of Lough Neagh, a large freshwater lake that supplies about forty percent of Northern Ireland's water. Our entertaining and charismatic tour guide, Conor, told us about the legend of the giant Finn MacCool, and his role in forming the causeway—a tale from Gaelic mythology—as well as the more scientific explanation of the causeway's origins, involving volcanic activity dating back about 60 million years. Ever the delightful raconteur, Conor also educated us on the virtues of Irish whiskey, informing us that, despite any claims to the contrary, it was far superior to anything Scottish-made. (Please don't get him started on American-made "whiskey," which he characterized as paint stripper.)
Upon arrival, we trekked along the footpath down to the causeway and marveled at the spectacular sight of about forty thousand interlocking, hexagonal basalt columns. A few of us were also startled by the unlikely sight of two black cows along one of the rocky slopes near the visitors' center. Further research revealed them to be Irish Dexter cattle. These small cows were reintroduced there for the first time in nearly fifty years to boost and recover wildflowers through their grazing. Apparently, the rugged land has long been covered with bracken, bramble, and coarse grasses that left fewer species of vegetation able to thrive. However, when we observed the cattle, they were not grazing but lazing. They appeared to be very content and in no rush to work.


Framed by dramatic cliffs, green hills, and Scotland in the distance, the Giant's Causeway is truly too spectacular for words. We spent more than an hour clambering over the pillars, hiking trails, snapping photos, sitting on rocks to eat lunch, and generally marveling at this majestic natural wonder. Then it was time to get back to the bus for our journey to Derry/Londonderry, the second largest city in Northern Ireland. (The name "Derry," we learned from Conor, is an anglicization of the Old Irish name Daire, meaning "oak grove.")
We arrived in the early afternoon, and the choir offered an impromptu set of songs in front of the Guild Hall. "Amazing Grace," written by John Newton during his time in Derry and hymns by a local nineteenth-century poet, translator and hymn writer, Cecil Frances Alexander, best known for "All Things Bright and Beautiful" and the Christmas carol "Once in Royal David's City." These gems were followed by "Ubi caritas" by Maurice Durufle and "An Irish Blessing" set by Dr. Barry Rose.The performance was enjoyed by a crowd of enthusiastic spectators.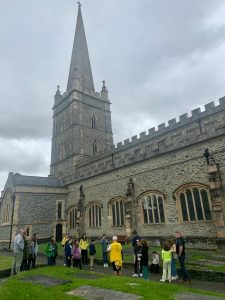 Afterward, we split into two groups for a lovely walking tour along the city's seventeenth-century walls. Derry/Londonderry has a rich, fascinating, and tumultuous heritage, and boasts the most complete circuit of historic walls of any town or city in Ireland. Constructed by the Irish Society between 1613 and 1618, the walls stand up to 26 feet high and measure nearly a mile around. The walls have never been breached. Impressively, Derry/Londonderry is the first planned city in Ireland, and has preserved its Renaissance-style layout of four main streets radiating from a central diamond to four gateways. Although Derry/Londonderry has been rocked by sectarian violence throughout its history, it seems today to be a vibrant, friendly, and cultured city, resilient and proud.
We thoroughly enjoyed our afternoon there, finished the day tired and happy, and hopped on the bus for the trip back to Belfast for dinner."