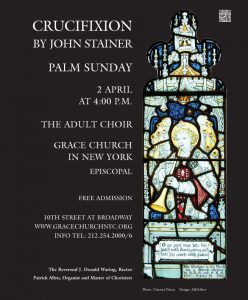 2 April 2023, Palm Sunday afternoon at 4:00 p.m.
The Adult Choir will offer Sir John Stainer's moving "Crucifixion," a Cantata for Holy Week that begins with the entry into Jerusalem and follows our Lord through the events of His Passion and Crucifixion.
Aram Tchobanian, tenor solo
A.J. Stetson, baritone solo
This offering is free and open to all.
It will also be live streamed and archived for future listening.
We wish you and yours a blessed remainder of Lent and a moving and peace filled Holy Week.