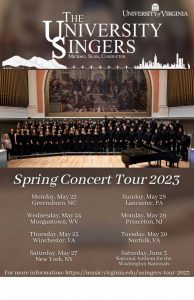 The University Singers from The University of Virginia, Charlottesville, Virginia will offer a program of choral music in Grace Church on Saturday 27 May at 2:00 p.m. The program is free and open to all.
The University Singers, the University of Virginia's flagship choral ensemble, will be on concert tour from the Blue Ridge to the Big Apple this May 2023, appearing in seven states. Led by UVA faculty conductor Michael Slon, the ensemble will perform in Winchester and Norfolk, VA; Greensboro, NC; Johnson, TN; Morgantown, WV; New York City, NY; Lancaster, PA; and Princeton, NJ. The tour is also likely to include a special National Anthem for Major League Baseball. UVA alumni are especially encouraged to join us, and UVA Singers alumni in attendance at concerts will be able to join the Singers on stage for the traditional UVA songs.
The ensemble will present a program of a cappella and accompanied works featuring excerpts from Rachmaninoff's Vespers and Johnson's Considering Matthew Shepard; works by several women composers including Abbie Betinis, Rosephanye Powell, and Alice Parker; Jake Runestad's "Let My Love Be Heard," J.A.C. Redford's "Let Beauty Be Our Memorial," the Beatles "Blackbird," a Nigerian carol, an arrangement of the folk song "Loch Lomond," and more, including the traditional UVA songs. The Singers look forward to sharing their music.
The UVA University Singers is the University of Virginia's flagship choral ensemble, heard by thousands each season in performances of a cappella and accompanied choral repertoire, including major works with orchestra. In 2017, the group joined the Charlottesville Symphony on the steps of the Rotunda to perform for UVA's Bicentennial Launch Celebration, before an estimated crowd of 20,000. In recent years, the Singers have also sung for Les Misérables creators Claude-Michel Schönberg and Alain Boublil during their UVA residencies, sung for the 2016 UVA Holiday greeting which received more than 400,000 views on social media, presented Bernstein's Mass for the 2018 Bernstein centennial, and taken a two-week concert tour of England, the Czech Republic, Poland, and Austria. Other choral program highlights have included concerts and workshops with Bobby McFerrin and Meredith Monk, a performance for Hillary Clinton, a performance for the 2010 VMEA Conference, a 2012 workshop with members of the Tallis Scholars, a 2014 performance for Philip Glass, and frequent collaborations with the Charlottesville Symphony, including the popular Family Holiday Concerts. During the pandemic, they continued to present virtual performances, and hosted online master classes with Eric Whitacre, Alice Parker, and other choral luminaries. Highlights since have included a joint performance of Rachmaninoff's Vespers with the Oratorio Society of VA, and a performance for Pres. Ryan's Arts on the Hill series – and the ensemble looks forward to a May 2023 concert tour.
Students in the University Singers come from UVA's six undergraduate schools, including Arts and Sciences, Education, and Engineering, as well as several of the University's graduate and professional schools. While approximately 25-30% are music majors, the ensemble is open to any student by audition, and is a for-credit curricular class. Together, members enjoy an esprit de corps that arises from the pursuit of musical excellence, and the camaraderie the singers develop offstage.