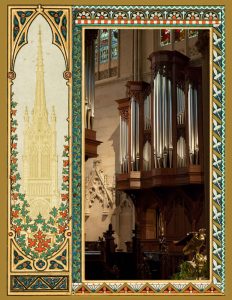 Thank you everyone who supported Bach at Noon and the Weekend Organ Meditations this season.
Some 200 programs of the great repertoire of the pipe organ were offered between Labor Day and Memorial Day Weekends!
You are invited if so moved to help continue these offerings by making a gift either in the Alms box in the Narthex of the Church or by using this link. Your gifts help keep the doors open, the lights on, the air flowing through the organ and the organists practicing. The whole community is grateful for your support.
The summer season of Bach at Noon will run each Wednesday from 12:20 – 12:50 p.m. in the Church 24 May through 6 September.
The 2023 – 2024 Season of Bach at Noon will begin on Tuesday 13 September at 12:20 p.m.
The 2023 – 2024 Season of the Weekend Organ Meditations will begin on Saturday 9 September at 4:00 p.m.
If music be the food of love, play on!
Admission to all organ meditations is free,
but if you can,
bring a dry good donation to help feed the hungry of our City.
You can deposit them in the basket you will find as you enter the church.
Have a safe and beautiful summer.