Grace Church welcomes the Boys' and Girls' Choirs under the direction of Jamie Hitel from Christ Church, Greenwich, CT to sing the 11:00 a.m. service on Sunday 27 August.
Christ Church Boys' Choir
Christ Church Boys' Choir is for boys with unchanged voices in third through eighth grade. They rehearse twice a week, and these engaging sessions work on maintaining vocal health, developing musical skills, and building strong community. They perform twice a month, usually as part of the Choir of Men and Boys.
St Cecilia Choir of Girls
The St Cecilia Choir of Girls was founded in 1952, and is open to girls in third through twelfth grade. The group has a strong tradition of mentoring, and the senior girls enjoy looking after the younger members, through example and advice. They perform both on their own, and with the men and teen boys.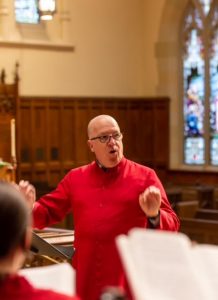 Jamie Hitel
Jamie has led the music at Christ Church since 2008, and was previously Director of Music at churches with substantial music programs in the United States and the United Kingdom. His visionary leadership has raised standards of music making, and provided opportunities for members to sing at several of England's great cathedrals, as well as to work with internationally renowned musicians and vocal coaches including Philip Moore, James O'Donnell, and Hilary Llystyn Jones.
Jonathan Vaughn
Jonathan has worked at Christ Church since 2017, and had previously worked in some of the most distinguished choral foundations in the United Kingdom, including St John's College, Cambridge, St George's Chapel, Windsor Castle, and Wells Cathedral. He has a rich and varied organ repertory focused on English repertoire and transcriptions. Our young singers benefit from his expertise gained in the English Cathedral tradition, and in particular the changing teen voice.