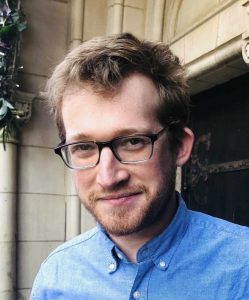 Join us as Grace Church welcomes organist
Sam Westley as guest artist for Bach at Noon on
Wednesday 5 July at 12:20 p.m.
PROGRAM
Vater unser im Himmelreich, BWV 737
Liebster Jesu, wir sind hier, BWV 731
Komm, Gott Schopfer, heiliger Geist, BWV 667
Nun Komm der Heiden Heiland, BWV 599
Alle Menschen müssen sterben, BWV 643
In dulci jubilo , BWV 608
Herr Christ, der ein'ge Gottes Sohn, BWV 601
Ich ruf zu dir, Herr Jesu Christ, BWV 639
Prelude and Fugue in C-Dur, BWV 547
Sam Westley
Organist, pianist, and educator Sam Westley hails originally from Minneapolis, Minnesota. He holds a BM in piano performance from the Manhattan School of Music where he studied under noted pedagogue Phillip Kawin.
Since 2014, Sam has been Organist and Music Director of the Episcopal Church of the Mediator in Kingsbridge, home to the last playable E.M Skinner organ in the Bronx. He is also the Executive Director of the Washington Heights Choir School, a free after-school choir program based out of Holyrood Church, and maintains an active piano teaching studio.