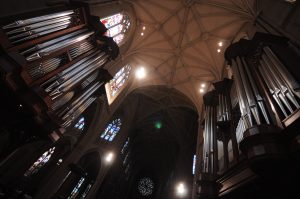 The 2014-2015 Season of Weekend Organ Meditations begins Sunday 7 September at 4:00 in the Church.
Please bring friends, colleagues and family to these informal forty-five minute offerings celebrating the diverse and rich repertoire of the pipe organ that take place every Saturday and Sunday during the Season.
Occasionly a program does not take place, check the home page of this website to see the most up to date schedule information.
Programs feature the newly completed Bicentennial Organ, Opus 65 built for Grace Church by Taylor and Boody Organbuilders of Staunton, Virginia.
For more information about Weekend Organ Meditations go to the location of this website under about or click here.