The New Organ in Grace Church, commissioned at the Bicentennial of the Parish and completed just over a year ago has multiple missions!
If Music is the food of love, play on!
This great line from William Shakespeare is the mission statement that focues Bach at Noon and our Weekend Organ Meditations.
Come enjoy the beautiful space of Grace Church and hear the organ sing as you help care for those in need in our City!
Bring dry goods – food stuffs to help re stock the food closets of the neighborhood. In the Nartex (Gothic for the entry into the Church) there are baskets where you can place your donations.
We need your help! There is so much need!

This mission is fed by another mission, daily live music for the enrichment of community life! Tuesday through Sunday the organ is played for the nurture and enjoyment of all who enter!
Tuesday through Friday, 12:20 – 12:50 p.m. Bach at Noon, celebrating the music of the spheres, the great organ works of Johann Sebastian Bach!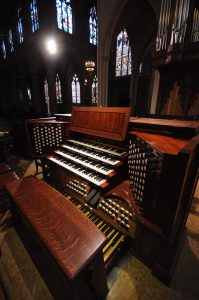 Saturday and Sunday, 4:00 – 4:45 p.m., The Weekend Organ Meditations offering diverse works from the great repertoire of the Pipe Organ.
All of these offerings are free and open to everyone!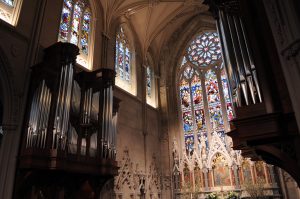 Bring family and friends and be a part of the Music!
Bicentennial Organ is the work of Taylor and Boody Organbuilders, their Opus 65
Staunton, Virginia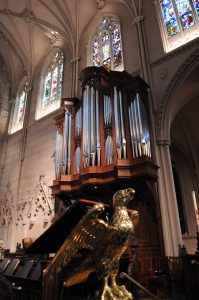 Photographs by Robbie Lawson and Andrew McKeon