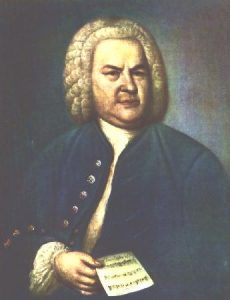 The Family name of Johann Sebastian Bach translates from German to mean "Brook." Beethoven said of Johann Sebastian Bach, not a brook but an ocean!
Celebrate the birthday of this great master on Saturday 21 March at 4:00 p.m. when a special program of his works will be played on the Bicentennial Organ in Grace Church. The 21st is the traditional date of Bach's birth by the old style or Julian calendar.
The program is free and open to all. It will last approximately forty-five minutes.
Help feed the needy of our city by bringing a dry good to place in the food donation basket as you enter the church.
PROGRAM:
Toccata und Fuge in d-moll, BWV 565
Largo e spiccato from Concerto in d minor after Antonio Vivaldi, BWV 596
Arioso, BWV 1056
Air from the Orchestral Suite in D, BWV 1068
Sheep may safely graze, BWV 208
Fuge in g-moll, BWV 578
Passacaglia in c-moll, BWV 582