A Choir Tour to France – Day Five
A Taxi Strike in Paris! Today the Taxis are on strike! But, no matter, after breakfast we walked to Notre Dame-Paris and made a short twenty minute program singing on the steps of the Altar at the crossing of this great and venerable church. The brilliant rose windows of both north and south transepts surrounded the choir, a moment not to forget for the rest of our lives. The people of the cathedral were very professional and kind to us.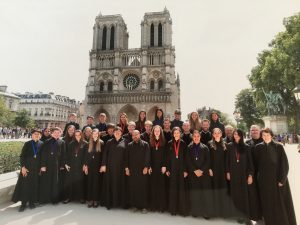 Notre Dame – Paris
Our Program:
PSALM 24. Domini est terra……Anglican Chant (Barnby)
REJOICE IN THE LORD…….Anonymous (16th Century)
UBI CARITAS…….Maurice Duruflé (1902-1986)
IF YE LOVE ME…….Thomas Tallis (c.1505-1585)
SUPER FLUMINA…….Giovanni Pierluigi da Palestrina (c.1525-1594)
HAEC DIES…….William Byrd (c.1543-1623)
JUSTORUM ANIMÆ…….C. Villiers Stanford (1852-1924)
Following the concert we visited the extraordinary space of
Sainte-Chapelle, a masterpiece of Flamboyant Gothic architecture built by Saint Louis in the heart of the Palais de la Cité on the Ile de la Cité in Pairs. Once it housed the relic of the Crown of Thorns, since the French Revolution kept in the Cathedral of Notre Dame – Pairs.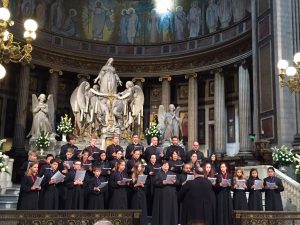 Following lunch we boarded our bus for L'église de la Madeleine. Originally built as a memorial by Napoleon as his "Temple de la Gloire de la Grande Armée. After his fall it was consecrated a church and dedicated to Mary Magdalene. Chopin's funeral took place here with his request that the Mozart Requiem be sung.
The choir was very inspired by the space and beautiful acoustic and sang up a storm. We will all remember this concert forever. The audience was warm and friendly and many of our friends and family joined us today and were present to cheer us on. A home coming!
Now for a quiet evening and enjoying the beautiful evening in Paris.
La Madeleine
Our Program:
PSALM 24. Domini est terra……Anglican Chant (Barnby)
REJOICE IN THE LORD…….Anonymous (16th Century)
UBI CARITAS…….Maurice Duruflé (1902-1986)
IF YE LOVE ME…….Thomas Tallis (c.1505-1585)
THE HEAVENS ARE TELLING, OPUS 48/4…….Ludwig van Beethoven (1770-1827)
JUSTORUM ANIMÆ…….C. Villiers Stanford (1852-1924)
AVE VERUM …….Wolfgang Amadeus Mozart (1756-1791)
GOD SO LOVED THE WORLD……..John Stainer (1840-1901)
HAEC DIES…….William Byrd (c.1543-1623)
STEAL AWAY…….African-American Spiritual
…..Harmonized and Arranged by H.T. Burleigh (1866-1949)
Sing my soul……Ned Rorem (b.1923)
SUPER FLUMINA…….Giovanni Pierluigi da Palestrina (c.1525-1594)
THE VIRGIN MARY HAD A BABY BOY…….arr. Robert De Cormier (b.1922)
PSALM 150. Laudate Dominum…….Anglican Chant (Talbot)