Our last formal day of the tour.
Everyone was up bright eyed and bushy tailed and ready to go over to the Cathedral of the Holy Trinity, our American Cathedral.
We were greeted by the Canon for Music, Zachary Ullery who was a marvelous host and very kind to us. It was an honor to be a part of the morning service as choir in residence.
The Reverend Mary Haddad was the celebrant and preacher and gave a fine message.
The American Cathedral, Holy Eucharist Rite Two at 11:00 a.m.
CHORAL PRELUDE
…..Rejoice in the Lord…….Anonymous (16th Century)
…..God so loved the world……..John Stainer (1840-1901)
…..This is the day…….Anonymous (c.1600)
PSALM 30. Exaltabo te, Domine…….Anglican Chant (G.M. Garrett & R. Bacon)
AT THE OFFERTORY, Haec dies…….William Byrd (c.1543-1623)
AT COMMUNION, If ye love me…….Thomas Tallis (c.1505-1585)
Following the Mass we boarded our bus for the last rehearsal in preparation for our final concert in the great church of Saint Sulpice – the church where Charles Marie Widor and Marcel Dupre once served as organist. Between these two men their service lasted just around one hundred years.
After the rehearsal we had a rest and returned to sing the concert at four o'clock. A Baptism had just taken place in one of the chapels and the noise of humanity and the bells pealing was a new experience for the choir in starting the concert. They took it in stride and learned a lesson about the size and emotion of art. Their sound and interpretation expanded and the music took on a new character, one we don't often experience in America.


They sang very sensitively to the appreciative audience that included some Grace Church members who were in town and two colleagues – Scott Cantrell and Dr. Kevin Clarke. It was such a wonderful surprise and fantastic to be with them.
After a final session of photograph taking at the steps of the altar of Saint Sulpice our tour has officially ended and already some have departed onto the next portion of the summer. The remainder will depart on Monday and a few remain to enjoy some extra days in Paris.
A marvelous adventure.
Thank you Peter's Way Tours for all your help, hard work and support that helped make this wonderful experience come to life.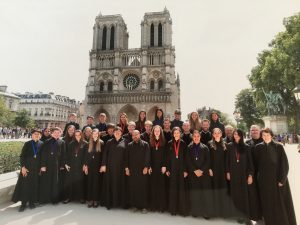 The Choir and all our families thank each of you for your prayers, gifts and all your support to make such an amazing and special trip possible.
Happy and Safe Summer with love from the Choirs of Grace Church in New York.
Saint Sulpice – Paris
Our Program:
PSALM 24. Domini est terra……Anglican Chant (Barnby)
REJOICE IN THE LORD…….Anonymous (16th Century)
UBI CARITAS…….Maurice Duruflé (1902-1986)
IF YE LOVE ME…….Thomas Tallis (c.1505-1585)
THE HEAVENS ARE TELLING, OPUS 48/4…….Ludwig van Beethoven (1770-1827)
JUSTORUM ANIMÆ…….C. Villiers Stanford (1852-1924)
AVE VERUM …….Wolfgang Amadeus Mozart (1756-1791)
GOD SO LOVED THE WORLD……..John Stainer (1840-1901)
HAEC DIES…….William Byrd (c.1543-1623)
STEAL AWAY…….African-American Spiritual
…..Harmonized and Arranged by H.T. Burleigh (1866-1949)
Sing my soul……Ned Rorem (b.1923)
SUPER FLUMINA…….Giovanni Pierluigi da Palestrina (c.1525-1594)
THE VIRGIN MARY HAD A BABY BOY…….arr. Robert De Cormier (b.1922)
PSALM 150. Laudate Dominum…….Anglican Chant (Talbot)