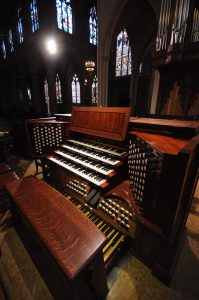 During the summer months two organ meditations take place each week at Grace Church.
They are played by our wonderful organ scholar, George Fergus!
The first is the summer Bach at Noon offering that takes place each Wednesday through September 9 in the Church
from 12:20 – 12:50 p.m.
The second is new and follows the 11:00 a.m. Sunday morning service each Sunday unless Baptism or Confirmation are taking place.
Following the Postlude of the 11 a.m. service, the organ will sing for thirty minutes approximately from 12:20 – 12:50 pm. The repertoire for these meditations is diverse and drawn from across the great repertoire of the pipe organ. These Sunday meditations are inspired by the "L'Audition" offered in the churches of Paris following services.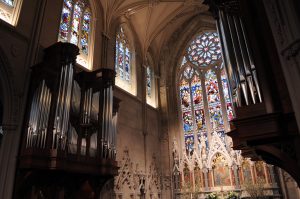 Both are free admission and open to all.
MUSIC IS THE FOOD OF LOVE, PLAY ON!
We invite you to bring a dry good to help feed to hungry of our city when you attend any of these offerings.
There are baskets in the Narthex as you enter to place your donations.