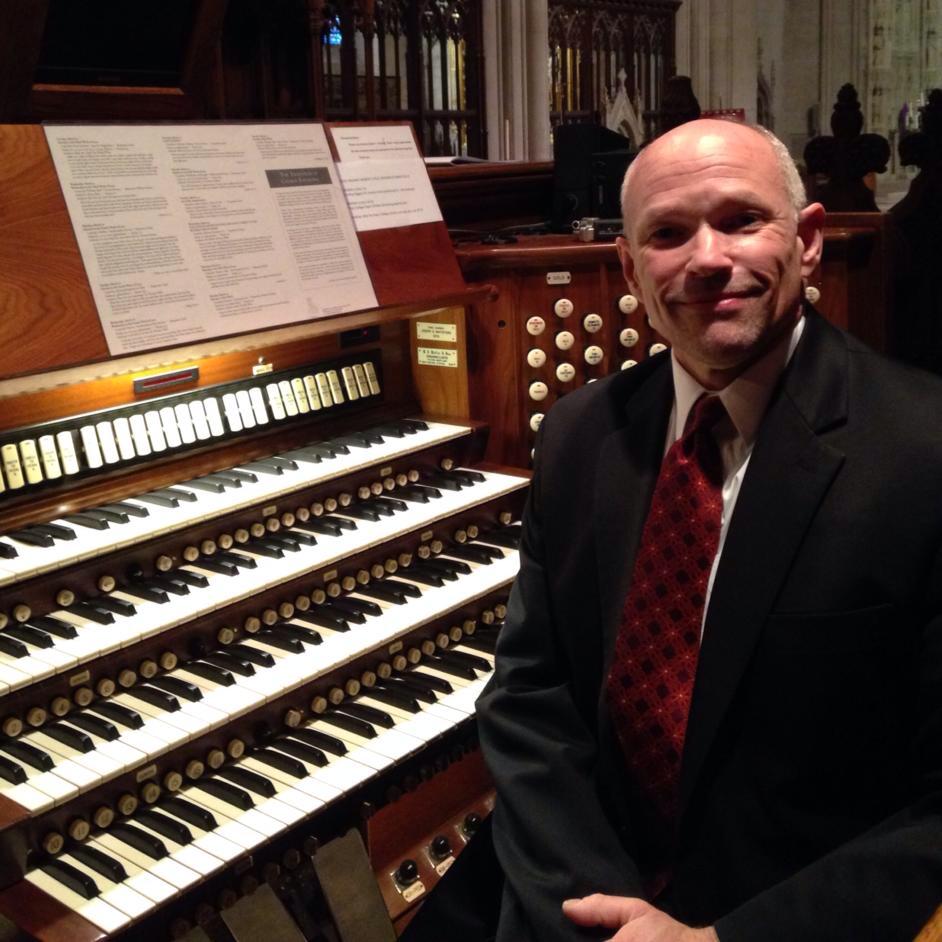 Grace Church in New York welcomes
Dr. Jonathan Biggers to play the final
Sunday Organ Meditation of the
2015 – 2016 Season.
The Weekend Organ Meditations take place between Labor Day and Memorial
Day Weekends each season.
The 2016 – 2017 Season will begin on
Saturday 10 September
at 4:00 p.m.
Free Admission
Dr. Biggers will offer the following program on 29 May at 4:00 p.m.
Variations on "Sine Nomine"…….Craig Phillips (b.1961)
Tribute: A Lullaby for Organ
Prelude and Fugue in E-major, BWV 566…….Johann Sebastian Bach(1685-1750)
Adagio, from Symphonie V, Op.42/1……Charles-Marie Widor (1844-1937)
Passacaglia, from Symphony for Organ…….Leo Sowerby (1895-1968)
The Bicentennial Organ
Opus 65
Taylor and Boody Organbuilders
This program concludes the 2015-2016 season of Weekend Organ Meditations.
Thank you for your inspiration and support!
If you are moved, please help support this series by making a donation in the alms box or online by clicking GIVE.
Jonathan Biggers, hailed by NPR as "one of the most outstanding concert organists in the United States," maintains an active career as both a professor of organ and harpsichord, and as a concert organist of the first order. He holds the prestigious Edwin Link Endowed Professorship in Organ and Harpsichord at Binghamton University (State University of New York), and has presented hundreds of concerts in concert hall, church and university settings throughout the United States, Canada, and Europe, including solo and concerto performances for several regional and national conventions of the American Guild of Organists, including a performance with the Atlanta Symphony at the 1992 AGO convention, and the opening solo concert for the 2010 AGO convention held in Washington D.C. He has appeared as a featured soloist with orchestras in the United States, Canada, and Europe, including performances with the Atlanta Symphony Orchestra, the Minnesota Orchestra, the Binghamton Philharmonic Orchestra, and the Calgary Philharmonic Orchestra, and has been featured frequently on NPR ("Pipedreams"), the Canadian Broadcast Corporation (CBC), and on Radio and Television Suisse Romande broadcasts in Geneva, Switzerland. Scott Cantrell, classical critic of The Dallas Morning News, stated that Biggers' performances demonstrate "authority and eloquence", and further stated "were there more performers like this, the organ would be far less a minority interest".
Dr. Biggers studied with Russell Saunders (Eastman School of Music, DMA); Lionel Rogg (Conservatory of Music, Geneva, Switzerland; Fulbright study); J. Warren Hutton (The University of Alabama, MM and BMus); and with Wallace Zimmerman (Atlanta, pre-college); he has also worked extensively with Harold Vogel (Bremen, Germany), and with Arthur Poister (Professor Emeritus of Organ at Syracuse University). A prizewinner of dozens of competitions, he was awarded a unanimous first prize in the 1985 Geneva International Competition, a distinction achieved only once prior in this prestigious music competition for organ in the world; second prize in the 1982 American Guild of Organists National Organ Playing Competition (at National Presbyterian Church in Washington D.C.); and a unanimous first prize in the 1990 Calgary International Organ Festival Concerto Competition, where he presented, with the Calgary Philharmonic Orchestra, the world premier performance of Snowwalker: A Concerto for Organ and Orchestra by Pulitzer prize-winning composer Michael Colgrass. A champion of new music for the organ, he has premiered other works by notable 20th and 21st century composers, including Richard Proulx (Chicago: Concerto for Organ and Orchestra), Craig Phillips (Los Angeles: Suite for Organ, Brass and Percussion), Persis Vehar (Buffalo: Soundpiece for Organ), and David Brackett (Montréal: Nightworks for Organ solo), and others. An acclaimed expert in the performance of organ music by Max Reger, he is internationally recognized for his performances of this particular composer's oeuvre, as well as his performances of the organ works of J.S. Bach. He has recorded two highly acclaimed compact disc recordings for the Calcante label: "Bach on the Fritts", and "Sleepers Awake! A Reger Perspective".
If Music be the food of Love, Play on…..
William Shakespeare
We invite you to bring a dry food good or toiletry with you so we might give aid to all in need. All donations will go directly to local food closets and collection sites.