Celebrate the 125th Anniversary Year of the Choirs with special spirit items!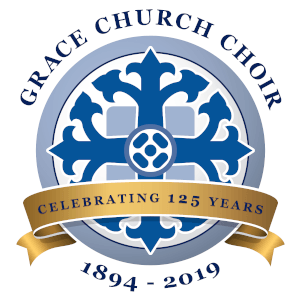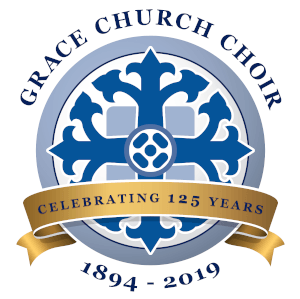 The Big Festival Concert and Reception has kicked off the anniversary year celebration of the Choirs and Grace Church School.
The Festival Concert Program 26 April 2019
Keep celebrating, that was the first one hundred twenty five years! we keep going!
Come listen to the choirs, the organ meditations, choral evensong, special choral and musical offerings and all the beautiful services in Grace Church.
We need you!
Alumni, write and come home, let us know what you are doing and about your lives since choir.
Tell us your favorite memories of choir and the people with whom you sang.
Put the Sunday before Thanksgiving on your schedule to come back and sing with the Choir at 11:00 a.m.
Alumni of the Girls' Choir, come back in November and December and join us for a special Evensong featuring Britten's beautiful
A CEREMONY OF CAROLS.
Thank you to everyone who has been a part of the celebration so far and for all your love, prayers and support.
Support the Choir Special Projects Fund by acquiring "Choir Spirit Items" being issued during this celebration year. Keep an open ear for "Pop Up" opportunities for the Choir Tie, Scarf, Tote Bag, Baseball Cap and many other special celebration items.
See the photos below for ideas and contact the music office to purchase items and support the Choir Special Projects Fund.
The Choir Special Projects Fund is a dedicated fund that supports the work and opportunities for the choirs not covered by the church operating budget. During this Anniversary celebration we hope to raise funds to restore the 117 year old choir stalls. There will be detailed information on this project coming soon.