Easter pre 1922
The boys at table in the old choir school dinning room
The Boys at Gym Class, Grace Church School
The Dedication of our Choir Stalls
Our Choir in the stalls of Bristol, 2004, an idea is born.
Some views of choir stalls with desk extensions and lights
An amazing choral foundation, you are very special and rare – part of a 1000 year old tradition.
We are not of the "children's" choirs variety that is the norm now. While there is nothing wrong with that, our foundation comes out of the Cathedrals, Monasteries, Convents and Collegiate Chapels of Western Europe – centers of learning and thought, the ovens that create leaders in culture and civilization.
As the western world spread over the globe during the past 500 years so did our musical foundations and culture.
Our colleagues to name a few:
King's College, Cambridge
The Choir of Men and Boys and Girls' Choir at Wells Cathedral
The Girls' Choir at Salisbury
St. Thomas Church, Leipzig
The Girls' Choir at Washington National Cathedral
Dom Knaben – spatzen, Regensburg
Boys Choir of Escolania del Escorial
There are Cathedral and Collegiate Choirs in our style in India, Japan, Korea, and China
…….and even our little brothers up at Saint Thomas Fifth Avenue!
We are the first in New York City, the mother choir/school to Saint Thomas and The Cathedral of Saint John the Divine who were founded on our model.
Founded in 1894, Let's connect with those who came before and handed us the tradition we enjoy.
Let us take care to lay a solid foundation in this new world culture for those who will come tomorrow!
Are we now a stranger in a foreign land? Who said that?

Our musical style and sound are becoming more rare, an endangered species, offering repertoire with a sound not found elsewhere in contemporary culture. That takes courage and strength to maintain.
Who listens to this type of music anymore? Most Churches have dropped it.
Why should we continue to offer it? Why support this type of choral foundation? It's time consuming and expensive.
Is the sacrifice worth it?
One of my mentors used to say of the training that this tradition can offer:
It's like stepping into a furnace: hot, intense, at times terrifying.
"But you will step out of that furnace strong, tempered like steel." It builds self esteem and character, teaches self discipline, goal setting and achievement – the music demands every ounce you have in order to be realized to it's and your potential. Ask anyone who has ever sung Stanford "For lo, I raise up" or Bach "Der Geisthilft" or Britten Te Deum laudamus in C. They will tell you!
And then my mentor made a promise: "We will not abandon you. We will never abandon you." Always hear in your heart "Welcome home." That is one of my greatest pleasures – when an old boy, and now an old girl comes through the doors on Broadway – to welcome them home!
Celebrate the diversity of sound between boy and girl trebles.
Why should boys sing – because they can. No one can sing like a boy treble, it is at the same time masculine, strong and innocent.
Why should girls sing – because they can. No one can sing like a girl treble. Sweet, precise and focused.
The two voice types at this stage are like two great violins, but they don't sound the same. Their difference gives a beauty and clarity to the music.
The key to it all is to allow them to be themselves in their age and let their bodies make sound naturally. Our tradition is based on celebrating that natural gift of sound. Not, manipulating it.
Boys should not sing like girls and in the same way, girls must not sing like boys.
This sounds silly, but in a time of role and identity confusion as we think about our relationships to one another across
genders, culture and race,
with love and respect,
loosing those traits that make us different is throwing the baby out with the bath water.
There has been enough of that.
Our repertoire is a music that celebrates the natural gifts of children and young people and doesn't press them to grow up too quickly.
Anglican Choral Music! A very special commodity and outreach!
Explore it with your children!
Share the beauty! Share the Love! Heal the world!
Let your light shine!
Old Boys Summer of 2010 in Washington DC – Can you spot them on the right?
Find the boy in the eyes of the man!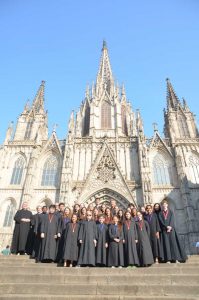 WATCH THE CHOIR VIDEO HERE, SERVANT SONG 2018
Space Saver 5 with type

Space Saver 4 with type

Space Saver 3 with type

Space Saver 2 with type