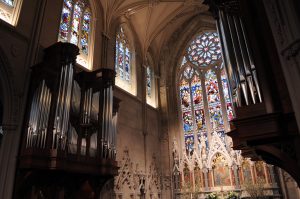 It's been a great season and now we are coming close to the end.
The 2017-2018 regular season of Bach at Noon will end on Wednesday 23 May.
The 2018 Summer Season will start on Wednesday 30 May at 12:20 p.m. The Summer Season runs through the first Wednesday of September, 5 September and takes place each Wednesday through this time period.
Thirty Minute Musical Offerings Celebrating the Organ Works of
Johann Sebastian Bach
2018 – 2019 SEASON
Tuesday through Friday from 12:20 – 12:50
Tuesday 11 September 2018 through Wednesday 22 May 2019
FREE ADMISSION
IF MUSIC BE THE FOOD OF LOVE, PLAY ON!
Consider bringing a dry food good or toiletry with you to help the needy of our city!
To see daily programs to be played please click here.
CLICK HERE for the Bach at Noon Flyer 2017 – 2018
CLICK HERE for the 2017 – 2018 Bach at Noon – Weekend Organ Meditation Postcard
[ezcol_1half]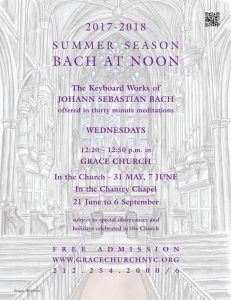 [/ezcol_1half] [ezcol_1half_end]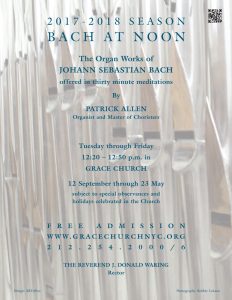 [/ezcol_1half_end]
[ezcol_1half]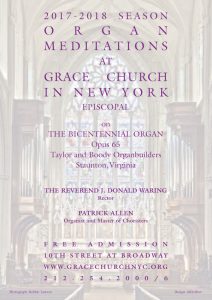 [/ezcol_1half] [ezcol_1half_end]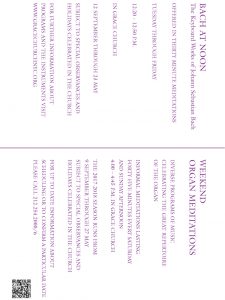 [/ezcol_1half_end]
[ezcol_1half]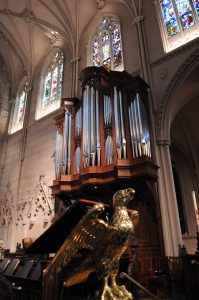 [/ezcol_1half] [ezcol_1half_end]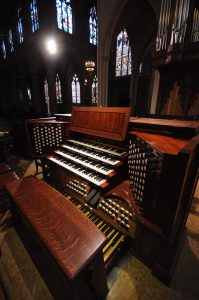 [/ezcol_1half_end]