Music at Grace Church in New York
Music at Grace Church in New York

The Parish Choir
In the Fall of 2006 the Parish Choir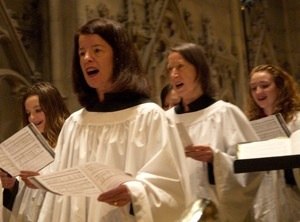 was established and now takes its place in the Music Program of Grace Church. This ensemble is open to any teen or adult with a wish to enjoy the fellowship of the community through the offering of great choral music. This choir sings weekly at the 9 o'clock a.m. Sunday service on the first Sunday of October through Memorial Day weekend. Rehearsal's take place prior to that service at 8:00 a.m. on Sunday mornings and on other occasions as arranged. Members of the Parish, alumni, faculty and parents of Grace Church School, and our neighbors in the community and NYU are all invited to come enjoy one another's company offering great sacred music repertoire!
Special projects will be chosen based on the interest, ability and resources of those who come together to enjoy great fellowship and making music together.
To apply for membership in the Parish Choir, please click here.