Music at Grace Church in New York
Music at Grace Church in New York

ABRACADABRA – an ABC of everything you need to know about accompanying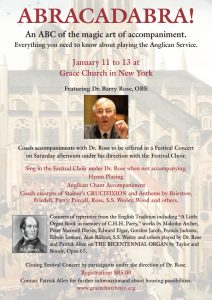 A Festival Workshop in the Art of accompanying the Anglican Service.
January 11 to 13 2018 at
Grace Church in New York
Featuring
Dr. Barry Rose, OBE
Coach accompaniments with Dr. Rose to be offered in a Festival Concert on Saturday afternoon under his direction with the Festival Choir.
Sing in the Festival Choir under Dr. Rose when not accompanying.
Hymn Playing
Anglican Chant Accompaniment
Coach excerpts of Stainer's CRUCIFIXION and Maunder's OLIVET TO CALVARY
Concerts of repertoire from the English Tradition including "A Little Organ Book in memory of C.H.H. Parry," works by Malcolm Archer, Chuckerbutty, Peter Maxwell Davies, Edward Elgar, Donald Hunt, Edwin Lemare, Philip Moore, Alan Ridout, S.S. Wesley and others played by Dr. Rose and Patrick Allen on THE BICENTENNIAL ORGAN by Taylor and Boody, Opus 65.
Closing Festival Concert by participants under the direction of Dr. Rose.
Registration: $85.00.
Contact Patrick Allen for further information and about housing possibilities.
www.gracechurchnyc.org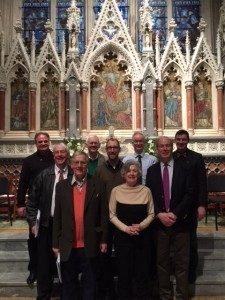 Participants with Dr. Barry Rose at the conclusion of the Festival Recital, Abracadabra – A Festival Workshop in the Art of accompanying the Anglican Service. Bravo everyone and thank you! Grace Church in New York. Todd Beckham, Thomas Baugh, William James Lawson, Adam Cobb, John Boody, Aaron Reichert, John Winthrop Brooks, Barry Rose, and Judith Hancock. Not pictured: Jane Baugh, Hamilton Moses, Paul Olson.
ABRACADABRA Program One
ABRACADABRA Program Two
ABRACADABRA Program Three
ABRACADABRA Program Four