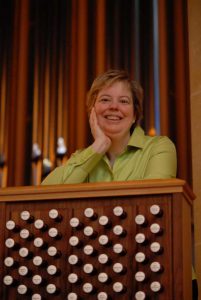 August 7 through 4 September 2022
Dr. Catherine Rodland
Catherine Rodland, whose playing has been described as "transcendent" (The American Organist), is Artist in Residence at St. Olaf College in Northfield, Minnesota. She graduated cum laude with departmental distinction in organ performance from St. Olaf in 1987 and received both the MM and DMA from the Eastman School of Music in Rochester, NY where she was a student of Russell Saunders. At Eastman, Catherine received the prestigious Performer's Certificate and the Ann Anway Award for excellence in organ performance. She is a prizewinner in several competitions including the 1994 and 1998 American Guild of Organists Young Artists Competition, the 1994 Calgary International Organ Competition, and the 1988 International Organ Competition at the University of Michigan for which she received first prize. Catherine has concertized extensively throughout the United States and Canada, and has been featured often on the syndicated radio program "Pipedreams" on National Public Radio. She was a featured performer at the American Guild of Organists National Convention online in July 2020.
At St. Olaf College Catherine teaches a full studio of organ students as well as music theory and ear training classes. She performs regularly at St. Olaf, dedicating the Holtkamp organ in Boe Memorial Chapel in 2007, and performing as a featured soloist with the St. Olaf Orchestra and the St. Olaf Band. These performances were all recorded and released as CDs through St. Olaf Records. Currently Catherine is presenting a series of recitals featuring the complete organ symphonies of Louis Vierne, after having spent a recent sabbatical leave researching organs in Paris. In 2010 she released two CDs: "Dedication"on the newly installed Nichols and Simpson Organ at West Side Presbyterian Church in Ridgewood, NJ and "American Weavings", recorded in Boe Chapel at St. Olaf College with violist and duo partner Carol Rodland and released by Crystal Records. The Rodland Duo is currently part of the Concert Artists Cooperative, and was featured at both the American Guild of Organists national convention in Houston, Texas, and the American Viola Congress in Oberlin, Ohio during the spring of 2016.
Catherine Rodland has been the organist of the Colonial Church of Edina since September, 2016.
July 24 and 31 2022
Mr. Ross Wood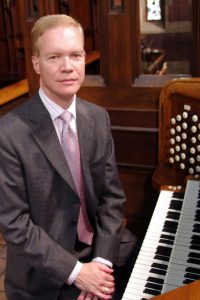 Praised for his "exquisite playing" (Journal of the Association of Anglican Musicians) Ross Wood is associate organist at All Saints, Ashmont, in Boston, having previously served at Trinity Church, Copley Square, and Church of the Advent. A graduate of SMU and Eastman, he has appeared in recital at St. Patrick's Cathedral, St. Thomas Church, Church of St. Mary the Virgin, the Cathedral of St. John the Divine, and Trinity Church, Wall Street, as well as Notre-Dame de Paris on three occasions and for festivals at Bourges and Carcassonne. On tour he has accompanied the Trinity Choir at Westminster Abbey, St. Paul's Cathedral, and the cathedrals of Ely and Chichester, in addition to appearing in the Boston Symphony Orchestra under James Levine and the Boston Pops under Keith Lockhart.
Sundays 19 June through 17 July 2022
Dr. Lenora McCroskey
Dr. Lenora McCroskey is professor emeritus of music in the College of Music at the University of North Texas. In addition to teaching organ and harpsichord, she was the assistant director of Early Music Studies, teaching Baroque performance practice, continuo, and coaching Baroque chamber ensembles. Her students, including Dr. Patrick Allen, have won numerous prizes and hold significant positions across the country. She is currently the Director of Music at Trinity Presbyterian Church in Denton, TX.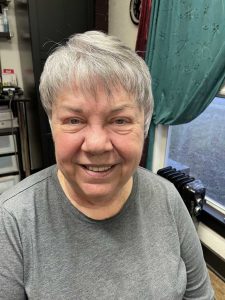 Prior to her appointment at UNT, Dr. McCroskey was on the faculties of Stetson University, the Longy School in Cambridge, and the Eastman School of Music of the University of Rochester and was the Associate Organist/Choirmaster in the Memorial Church at Harvard. She holds the BA and BM degrees from Stetson, where her organ study was with Paul Jenkins; an MA from Harvard in musicology; and the DMA from the Eastman School of Music, where her organ study was with Russell Saunders. She studied harpsichord with Gustav Leonhardt and continuo with Veronika Hampe at the Amsterdam Conservatory in the Netherlands.
As a professional player, she was founder or cofounder of Baroque ensembles in Cambridge, Rochester, Fort Worth, and Denton. She has also played continuo for the Dallas Opera, the Dallas Bach Society, Houston's Ars Lyrical, Dallas' Orpheus Ensemble, Musica Poetica, and many others. She now serves as accompanist for the Denton Bach Society and is Director of Music at Trinity Presbyterian Church in Denton.
Active in the Dallas Chapter of the American Guild of Organists, she has served as Dean, director of various committees, and as district convener for North Texas. She has won numerous grants for study in France, including a John Anson Kittredge Foundation grant; is a Fellow of the Mary Ingraham Bunting Institute (now the Radcliffe Institute) at Harvard; and was awarded the Paul Riedo Award by the Dallas Bach Society for service to early music in north Texas.
Christopher Houlihan, July and August 2021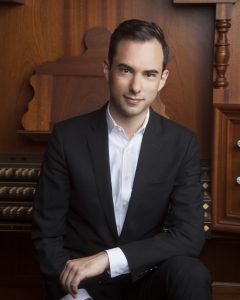 Grace Church welcomes organist Christopher Houlihan as our guest musician for
the 9:00 and 11:00 a.m. Sunday services during July and August while Dr. Allen is away.
Christopher Houlihan is John Rose College Organist and Directorship Distinguished
Chair of Chapel Music at Trinity College in Hartford, Conn.
It is a pleasure and privilege to welcome him to Grace Church this summer.