Music at Grace Church in New York
Music at Grace Church in New York

Grace Church Hymnal
During the year 1909 a new Grace Church Hymnal with Morning and Evening Canticles was published, edited by James Morris Helfenstein. This was the year of Dr. Huntington's death, and the volume is inscribed: "Before this compilation could be finished the writer of the following Preface had entered into his rest. But for his encouragement and sympathetic interest this arduous task would never have been undertaken, and in grateful remembrance of many years of appreciated service the editor dedicates his work to the memory of the Reverend William Reed Huntington"…..from: Grace Church in Old New York.
….see below for a few more quotes from this text by William Rhinelander Stewart, 1924.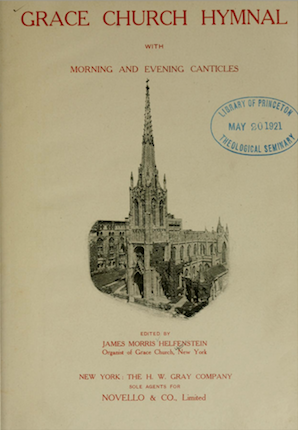 Click the links below to see the 1909 Grace Church Hymnal, beautifully preserved by the Princeton Theological Seminary.
Browse the online E-Book version
The preface, from Dr. Huntington's pen, is as follows: "With the instinct of the century-plant, Grace Church emphasizes the completion of a hundred years by throwing out a flower – a flower in song. The Parish has, from the beginning of its ordered life, made a strong point of music, in fact, at times, may possibly have come under suspicion of arrogance in taking her leadership too easily for granted. People fairly past middle life have no difficulty in recalling the oblong books of sacred music which, under various titles, used to lie upon the piano-racks of well-to-do households for family use on Sunday evenings. "Carmina Sacra" was one of them, "The Boston Academy" was another, "Greatorex" another, and last, with somewhat ampler margin than the rest came in 1852 the "Grace Church Collection."
"It is with the single thought of religious helpfulness that my dear friend, the compiler of this Collection, has done his work. He has aimed to bring together such tunes as will, in his judgment, enable congregations to sing their way through the Hymnal of the Church with the least possible difficulty. His work is not that of either a theorist or an amateur. He has not aimed at collecting tunes that people ought to sing. He has collected those which he has actually heard them sing, therefore, knows that they can sing. And this, moreover, has been done without yielding a jot either to sentimentalism or to vulgarity, those foes of sobriety and reverence"
"As one "that occupieth the room of the unlearned" with respect to all things musical, I should stoutly have refused Mr. Helfenstein's request that I write this Preface, had not gratitude compelled. I could not refuse a little to one to whom I owed much. That his Book may accomplish for other churches the transfiguring work which his skilled hands and quick perceptions have done for Grace, is the best wish I could wish him. And I wish it."