Music at Grace Church in New York
Music at Grace Church in New York

Bach at Noon
The Bach at Noon Organ Meditations Series features the keyboard works of
Johann Sebastian Bach offered in the Church each Tuesday through Friday
from 12:20 to 12:50 during the regular season.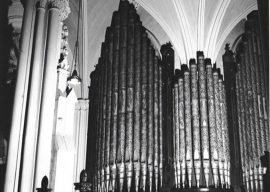 These 30 minute organ meditations are free and open to all.
Bach at Noon is on summer schedule taking place each Wednesday through 6 September at 12:20 p.m. in the Church.
The 2023 – 2024 Season begins on Tuesday 12 September and runs through Friday the 17th of May 2024.
Bach at Noon moved from FaceBook to it's own channel on YouTube. You can now attend live in person, live on YouTube or listen to archived programs as you wish.
Please think about subscribing the organ meditation channel,
if we can get to 1,000 subscriptions new possibilities can open up.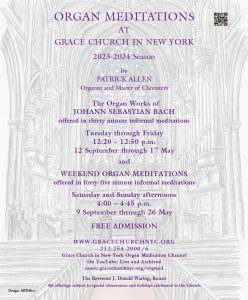 Programs are played on The Bicentennial Organ, Opus 65 built by Taylor and Boody Organbuilders of Staunton, Virginia and completed in September of 2013.
If music be the food of love, play on!
Admission is free, but if you can,
bring a dry good donation to help feed the hungry of our City.
Please consider making a donation to help support keeping the doors open, the lights on and the music flowing at Grace Church. It takes a community to care for a community. We are very grateful for all your love, kind words, prayers and support. Give to support Bach at Noon
If music be the food of love……
Please note that on occasion programs will not take place due to special liturgical or school observances.
These schedule changes will be announced on the home page of the music area of the website and at the church as appropriate including the music information phone line: 212.254.2000/6
Look at daily programs to be played
Examples of the diverse programs offered-scroll to bottom of page when it opens
"I have heard those concerts. They are an oasis in the day"…….Max Van Egmond
New York Times 17 July 202010 Fingers, 2 Feet and 5,000 Pipes, Breathing Life Into the Present
You don't need to go to a jazz club to hear spontaneous riffs and exciting musical invention. You can go to church.
By Annik LaFarge
Ms. LaFarge is a writer, editor and photographer.
LaFarge Article Bach at Noon 17 July 2020 NY Times, PDF copy
Podcast January 2018 David Pedrick "Working Musicians" interview with Patrick Allen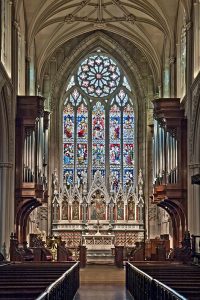 BEST OF NYC: THE VILLAGE VOICE
OCTOBER 2013
Grace Church was named Best Free Lunchtime Taste of Timeless Magnificence
by The Village Voice Newspaper in their 16 October publication.
"No time for midday yoga or meditation? Tuesday through Friday, you can still seize hold of some inner peace by hustling into Grace Church for Bach at Noon, 30 minutes of Bach organ pieces performed by Patrick Allen, the organist and master of choristers, or organ scholar Phillip Lamb, between 12:20 and 12:50 p.m. Sometimes joyous, sometimes weighty, and sometimes sounding like glittering mathematics fugue-ing before God, these baroque "meditations" are soothing and thrilling at once, the experience a reminder even for unbelievers that there are things grander than us, that can unite us across time."
Published 16 October 2013
STREET-CORNER SYMPHONIES Free concerts you can take in at lunch
08/18/2011
New York PURE WOW
On September 11, 2001, Grace Church organist Patrick Allen began playing Bach hymns for crowds gathering in the pews. Ever since, his meditative "Bach at Noon" series (Tuesdays through Fridays from 12:20 to 12:50 p.m.) has drawn droves of listeners, from neighborhood regulars to out-of-towners seeking solace in the city. 802 Broadway (between 10th and 11th sts.)
New York Times, August 20, 2010
Music That Rises Above the City's Roar
In the hours after the Sept. 11 terrorist attack, Patrick Allen, the organist at Grace Church near Union Square, decided to play for the people gathering in the church's pews, filling the silence with the music of Johann Sebastian Bach because, as Mr. Allen put it, "it was clear that this music was the medicine and food needed by those coming through the doors." Nearly nine years later, the Bach at Noon series continues — peaceful, meditative revivals.
BEST OF NYC: THE VILLAGE VOICE
2006
Best (only) reason to go to church – 2006
Bach at Noon
Being raised in a born-again Christian household left a bad taste in my mouth: One Good Friday, when I was 10 years old, my mother forced a heaping tablespoonful of horseradish down my throat, just to make sure I'd never forget how much Christ had suffered for me. There were other "lessons" too. Anyway, once I turned 18 and my sentence ended, I swore I'd never enter another church or have anything to do with religion ever again. But I broke my vow recently: While walking down Broadway, I was drawn into Grace Church by some of the most moving, beautiful organ music I had ever heard. As I sat beneath the mile-high cathedral ceilings, sunlight streaking through the stained-glass windows, I realized that there was a being greater than me, greater than all of us—Johann Sebastian Bach. Bach at Noon organ meditations (every Tuesday through Friday, 12:20 to 12:50 p.m.) allow you to briefly transcend the ugliness of the world and connect with the good—without the distractions of forced ritual and a yammering preacher. They're also only 30 minutes long, so your ass doesn't get too sore from the pew, and there isn't an ounce of horseradish in sight.