Music at Grace Church in New York
Music at Grace Church in New York

Previous Organ Scholars
Summer 2020, Rebecca Ehren, Organ Scholar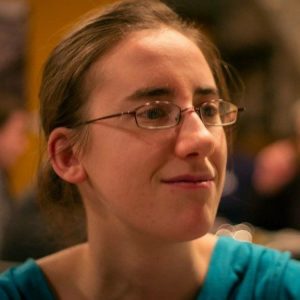 Rebecca Ehren is a Canadian pianist, organist, and soprano originally from Ottawa. She is an Associate of the Royal Conservatory of Music (Toronto) and has won numerous prizes from the Kiwanis Music Festival and the Ontario Registered Music Teachers' Association. Rebecca graduated with honors from Indiana University's Jacobs School of Music, where she received the Premier Young Artist Award and the Wennerstrom-Phillips Piano Scholarship. Along the way, she was a scholarship student at summer programs such as the Brevard Music Center and the International Keyboard Institute and Festival.
While at Indiana, Rebecca completed a second degree with majors in cognitive science and mathematics/economics and currently serves as Chair of the Board of Directors for C4: The Choral Composer Conductor Collective.
Rebecca discovered the organ shortly after moving to New York City while singing in the professional octet at Church of Our Saviour. Her fascination with the instrument led her to study with Dr. Raymond Nagem and she will begin a masters degree in organ performance at the Yale School of Music this fall.
2019 – 2020, Hannah Cen, Organ Scholar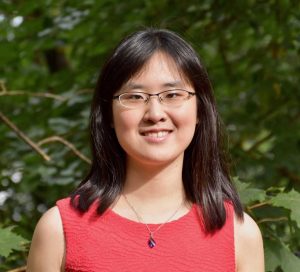 Organist and pianist Hannah Lingen Cen has delighted audiences in solo appearances at NYC's St. Paul's Chapel of Trinity Church, Madison Avenue Presbyterian Church, Steinway Hall and New Paltz in upstate New York. She won the third prize of 2019 AGO Brooklyn chapter scholarship organ competition and she is a recipient of the E. Power Biggs Fellowship. Her collaborative performances include chamber music recitals at the National Opera Center and Manhattan School of Music (MSM), where she serves as an accompanist in the collegiate and precollege divisions.
Prior to her appointment as organ scholar at Grace, she served as organist at Calvary United Methodist Church in the Bronx and the pianist at Redeemer Presbyterian Church in downtown Manhattan and she is on the piano faculty of NYC's Geneva Conservatory of Music. Ms. Cen received Bachelor and Master of Music degrees in piano performance from Manhattan School of Music, studying with Phillip Kawin. She is currently pursuing a Master of Music degree in Organ performance with Andrew Henderson.
2017 – 2019, Jacob Reed, Organ Scholar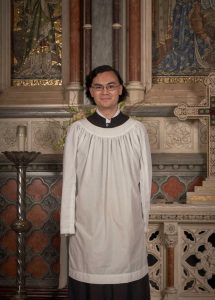 Jacob Reed is a Master's student at the Yale Institute of Sacred Music, where he studies organ with Martin Jean. Born in Oxford, England, and raised in Chapel Hill, North Carolina, he recently became the first student ever to receive a simultaneous BA/MA in musicology from Yale University (double-major in mathematics), studying harpsichord with Arthur Haas and organ with Thomas Murray.
Jacob was a 2013 U.S. Presidential Scholar, and was selected as a 2013 YoungArts National Finalist by the National YoungArts Foundation – one of 152 finalists out of nearly 10,000 applicants, and the only organist among the 19 classical musicians.
Over the past several years, he has given recitals across the United States, Europe, and Canada. In addition to his solo, ensemble and church service playing as an organist, Jacob has also performed frequently as a soloist, accompanist, and chamber musician on piano, harpsichord, and viola da gamba. Since matriculating at Yale, he has been a member of the Yale Temperament Viol Consort, instrumentalist and vocalist for the Yale Collegium Musicum, and first harpsichordist for the Yale Baroque Opera Project. Jacob was artist-in-residence as organist and pianist at the 2016 and 2017 iterations of the Uncommon Music Festival in Sitka, Alaska.
2016 – 2017, Mary Pan, Organ Scholar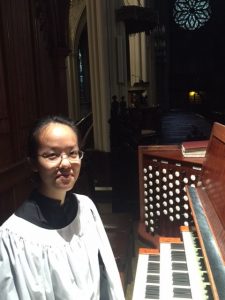 Mary Pan is a Master's student at the Yale Institute of Sacred Music, where she studies organ with Thomas Murray. A native of Burlington, Connecticut, she is a graduate of The Hartt School, University of Hartford, where she studied with Patricia Snyder and Renée Anne Louprette. Ms. Pan is a prizewinner in the Albert Schweitzer Organ Competition, the L. Cameron Johnson High School Organ Competition, and the AGO Regional Competition for Young Organists. She is a recipient of the M. Louise Miller Scholarship, the Dorothy Goodwin Summer Research Scholarship, the E. Power Biggs Fellowship, the Yankee-Pogorzelski Memorial Scholarship, and the Peter B. Knock Memorial Music Fund. Ms. Pan was formerly organist and pianist at First Baptist Church in West Hartford, Connecticut and Chinese Baptist Church of Greater Hartford. Prior to her appointment as organ scholar at Grace, she served as organ scholar at Trinity Episcopal Church in Hartford, Connecticut.
2014 – 2016, George Fergus, Organ Scholar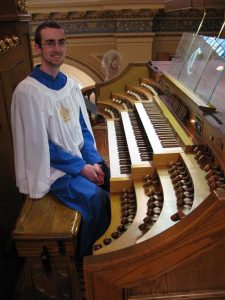 George Fergus, a native of Fort Worth, TX, is a candidate for the Master of Music degree at the Institute of Sacred Music at Yale University, where he is a student of Martin Jean. He holds a B.M. in organ performance with departmental distinction from St. Olaf College in Northfield, Minnesota, where he studied organ with John Ferguson and Catherine Rodland, and conducting with Steven Amundson. George has given organ recent recitals in Northfield and St. Paul. As a conductor, credits include Britten's "Albert Herring", Bernstein's "Candide", and Mozart's Requiem, among others. Before his appointment as the Organ Scholar at Grace, George served as the Organ Scholar at the Church of St. Louis King of France, in downtown St. Paul, Minnesota.