Music at Grace Church in New York
Music at Grace Church in New York

Weekend Organ Meditations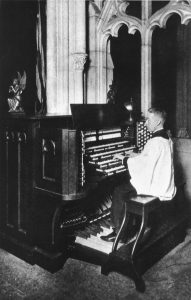 Organ Meditations are offered each Saturday & Sunday afternoon in the Church at 4p.m. These informal programs take place between Labor Day and Memorial Day each year.
The 2023 – 2024 Season will begin on Saturday 9 September and run through Sunday 26 May 2024
SATURDAY – traditional repertoire of the pipe organ
SUNDAY – HYMNS FROM GRACE, favorite Hymns, Anthems and Voluntaries played on the pipe organ
The Weekend Organ Meditations have moved from FaceBook to it's own channel on YouTube.
You can now attend live in person, live on YouTube or listen to archived programs as you wish.
Please think about subscribing to the organ meditation channel, if we can get to 1,000 subscriptions new possibilities can open up.
View upcoming programs to be offered.
Examples of the diverse programs offered-scroll to bottom of page when it opens
Podcast January 2018 David Pedrick "Working Musicians" interview with Patrick Allen

Please note that on occasion programs will not take place due to special liturgical or school observances. These schedule changes will be announced on the home page of the music area of the website and at the church as appropriate including the telephone music information line: 212.254.2000/6.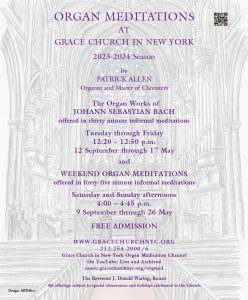 ADMISSION IS FREE
If music be the food of love, play on!
If you can, bring a dry food good or toiletry donation to help feed and care for the needy of our City.
Please consider making a donation to help support keeping the doors open, the lights on and the music flowing at Grace Church. It takes a community to care for a community. We are very grateful for all your love, kind words, prayers and support.
Give to support Weekend Organ Meditations
If music be the food of love……