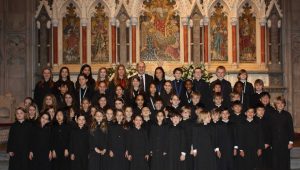 Our Junior Choristers are back! and…….Choral Evensong on Tuesday evenings will start the 2018-2019 Season on Tuesday 2 October at 6 p.m. in the Church. This gentle evening office lasts approximately 30 minutes.
The boy and girl junior choristers will offer:
Preces and Responses…….Merbecke harmonized by Tallis
Psalm 24.Domini est terra……Anglican Chant (Barnby)
Evening Service in E-flat…….Sydney Watson
Anthem, Jesu, joy of man's desiring…….J.S. Bach
Please forgive us, but the following Tuesday school is closed for the Columbus Day Holiday. There will be no Evensong on 9 October, but we will resume on Tuesday 16 October.