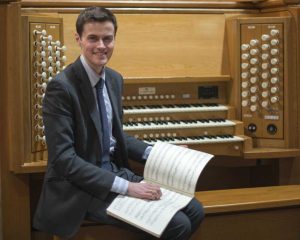 Join us as Grace Church welcomes organist
Steven McIntyre as guest artist for Bach at Noon on Tuesday 9 April at 12:20 p.m.
PROGRAM
Prelude and Fugue in A minor, BWV 543
Pastorella, BWV 590
(i Pastorella, ii Allemande, iii Aria, iv Gigue)
Prelude and Fugue in C major, BWV 547
Steven McIntyre studied at the University of Glasgow gaining a Bachelor of Music with first class honours. Afterwards he attended the University of Strathclyde receiving a professional diploma in secondary education (PGDE). Whilst a student he studied under John Butt, Kevin Bowyer and undertook private study with George McPhee.
During his studies he has been awarded numerous prizes including the Muriel Thorne Hague prize and a Sir Thomas Beecham Trust Scholarship from Glasgow University and, after gaining Fellowship of the Royal College of Organists (FRCO), he was awarded the Limpus, Shinn and Durrant Prizes for gaining the highest marks in the practical examination. In addition to FRCO, Steven also holds Fellowship of Trinity College London (FTCL). In 2012, Steven was the recipient of the prestigious Flentrop Scholarship from the Eric Thomson Trust which allowed for a short but intensive period of study on historically important instruments in Holland.
Steven has held posts at Paisley Abbey and the Cathedrals of Dunblane and Peterborough. Since September 2014 he has been Assistant Organist at St. Mary's Episcopal Cathedral in Glasgow. He features regularly as accompanist for the BBC Radio 4 Daily Service and has broadcast on both television and radio. Steven is also a keen educator and teaches secondary Music education as well as acting as a consultant to the RSCM in Scotland.
Engagements for 2019 include recitals at the Memorial Chapel, Glasgow University, Tewkesbury Abbey (as part of the Three Choirs Festival) as well as tutoring on the St Andrews International Organ Course.