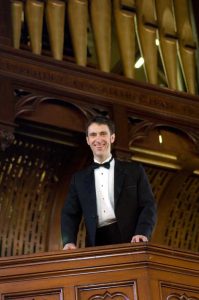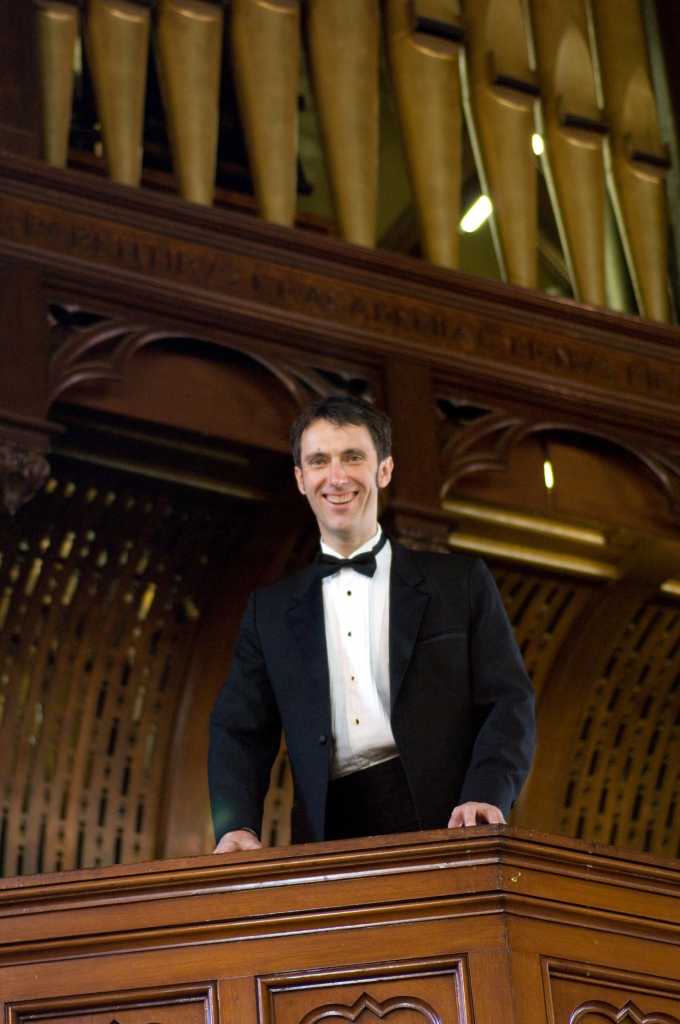 Join us as Grace Church welcomes organist
Dr. Mark Steinbach as guest artist for Bach at Noon on Tuesday 21 May at 12:20 p.m.
PROGRAM
Praeludium und Fuga pro Organo pleno from Clavierübung III, (1739), BWV 552
O Mensch bewein dein Sünde gross from Orgelbüchlein, BWV 622, Johann Sebastian Bach
Preludium und Fuga D Dur, BWV 532, Johann Sebastian Bach
Dr. Mark Steinbach is University Organist, Curator of Instruments, and Senior Lecturer in Music at Brown University, where he teaches applied organ lessons, music theory, and seminars on such topics as Olivier Messiaen, and performance and analysis. Mr. Steinbach concertizes and teaches frequently throughout the United States and Europe. A passionate advocate of new music, he premiered compositions of Brown composers Eric Nathan and Wang Lu at Notre-Dame de Paris and Berlin's Nikolai-kirche in summer 2016. He was in residence for 5 days at Xi'an Conservatory of Music in Xi'an China in 2018 to teach and perform a solo recital in the new concert hall. He performed solo recitals at festivals in Freiberg Cathedral, Rötha, Görlitz, Weimar, and Aosta Cathedral in summer 2018. He will be performing at the Cathedral in Prague in August 2019.
Mr. Steinbach has performed for the National Conventions of the American Guild of Organists, the Organ Historical Society, the Piccolo Spoleto Festival, the International Organ Festival at the Oude Kerk in Amsterdam, the Courmayeur, Bolzano, Storici Organi della Valsesia, and Picena international organ festivals in Italy and organ festivals in Berlin, Halle, Dresden and Lüneburg, Germany. He performed the world premiere of Daniel Pinkham's "Odes" at the American Guild of Organists Regional Convention and the U.S. premiere of Nico Muhly's "O Antiphon Preludes" at Brown University. Mr. Steinbach has been featured on National Public Radio's "All Things Considered" performing on the 1640's English cabinet organ in Wickford, Rhode Island, the oldest church organ in use in the United States. Mr. Steinbach served as Organist and Choirmaster of historic St. Paul's Church in Wickford, Rhode Island for 23 years, building a substantial multi-generational music program.
Mr. Steinbach earned the bachelor of music degree from the University of Kansas where he studied with Jim Higdon. As a Fulbright scholar he studied with Peter Planyavsky in Vienna, Austria. He earned the master of music and doctor of musical arts degrees from The Eastman School of Music where he studied organ with David Craighead and harpsichord with Arthur Haas.
Mr. Steinbach's critically acclaimed CD Organ Works of Anton Heiller (Loft) has been featured on America Public Media's Pipedreams and The Organ Loft. Mr. Steinbach has adjudicated several organ competitions, including the American Guild of Organists National Young Artists Competition.