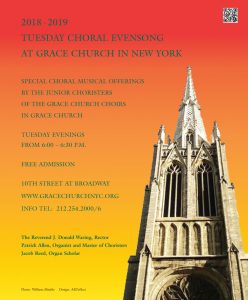 The Tuesday offerings of Choral Evensong by our Junior Boy and Girl Choristers has ended for the 2018-2019 Season.
We want to thank everyone who attended, sang and prayed with us and supported us while we learn and grow. This was a special year when the juniors became a year younger due to adjustments in the training program of the choristers. As a result these young people were pioneers in learning a lot of new repertoire, leadership skills and set a new bar for our third grade training program.
Again, thank you for all your prayers and support.
Choral Evensong on Tuesday by our Junior Choristers will return on
Tuesday 1 October at 6:00 p.m.
Have a safe and beautiful summer season.
Love from the Choir Community.