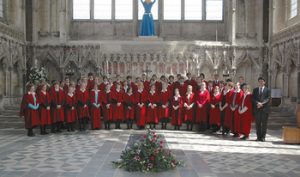 Grace Church in New York welcomes the
Chapel Choir of Sedbergh School
from the UK in a noonday concert on
Saturday 13 July at noon.
Free Admission.
Chris Allinson, director
Peter Noke, organist
The Program will be drawn from the tour repertoire that includes:
Blitheman – In Pace
Byrd – Ave Verum Corpus
Bruckner – Locus Iste
Allinson – Angus Dei
Bainton – And I Saw A New Heaven
Stainer – God so loved the world
Lloyd – View Me Lord
Whitacre – Lux Arumque
Lotti – Crucifixus
Jenkins – Angus Dei
Ireland – Ex Ore Innocentum
If music be the food of love, play on!
Admission is free, but if you can,
bring a dry good donation to help feed the hungry of our City.
This may be placed in baskets found as you enter the church.