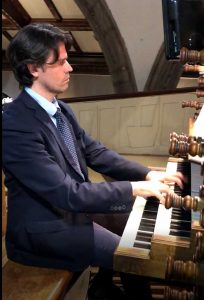 Join us as
Grace Church in New York
welcomes organist
Giorgio Revelli
as guest artist for
Bach at Noon
Tuesday 3 December at 12:20 p.m.
FREE ADMISSION
If music be the food of love, play on!
Admission is free, but if you can,
bring a dry good donation to help feed the hungry of our City.
Please consider making a donation to help support keeping the doors open, the lights on and the music flowing at Grace Church. It takes a community to care for a community. We are very grateful for all your love, kind words, prayers and support. Give to support Bach at Noon
PROGRAM
Toccata und Fuge in F Dur, BWV 540
"Ein feste Burg ist unser Gott," BWV 720
Ricercare I (Musikalisches Opfer), BWV 1079 1079
Contrapunctus in Hypodiapason, BWV1080 (Arte della Fuga)
"Wir glauben all' an einen Gott," BWV 680
Giorgio Revelli
Organist, harpsichordist, pianist and conductor, Giorgio Revelli is titular organist (dating from 2007) at the Basilica of the Sacred Heart of Bussana, Sanremo, Italy, and director of music at Saint Maurice Cathedral, Imperia, Italy (dating from 2015).
Native of Taggia, Italy, Mr. Revelli achieved all of his music and academic studies in France. At the National Conservatory of Nice, he studied organ with René Saorgin, and harpsichord and chamber music with Mireille Podeur (Early Music Department), while piano with Polish pianist Elzbieta Glabowna. He attended master classes at prestigious French academies with Michel Chapuis, Marie-Claire Alain, Bernard Lagacé, Mireille Lagacé, Jean Boyer, Harald Vogel and he was pupil of Jean Pierre Leguay as for the art of improvisation.
Mr. Revelli has been regularly invited to international music festivals in Europe (France, Germany, Italy, Switzerland, Luxembourg, Belgium, Spain), with a repertoire ranging from Early Music to contemporary and living authors.
Mr. Revelli's performances have reached South America (Argentina, Uruguay), Canada and the United States, and he regularly collaborates with the Italian Ministry of Culture through the Italian Institutes of Culture overseas, both in lecturing and in playing as a soloist as well as with the orchestra. Such merits have earned Mr. Revelli the invitation for the first time in 2012 as Italian member of the Jury, and also as appointed member of the scientific commission from 2013 on, to the renowned International Organ Improvisation Contest on the historic organ at Saint-Colomban Abbey of Luxeuil, France.
Among Mr. Revelli's most striking performances of 2018, there are the concert at the precious Andreas Silbermann organ in the context of the Organ Festival of Ebersmunster, Alsace, France.
Among his next 2019 concerts, a program on Renaissance and French Baroque repertoire is scheduled
on French Queen Marie Antoinette's Reuckers harpsichord at Neuchâtel, Switzerland.
Since 2010, Giorgio Revelli has been recording his CDs with CLASSIC CONCERT of Salzburg, Austria, and with the Italo-German CENTAURUS MUSIC in Italy.