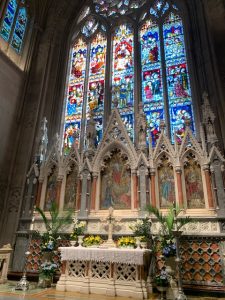 Grace Church has been closed to the public for live attendance since early March due to the pandemic.
In August the church began opening for noonday prayer and private devotion on Tuesday and Thursday from noon to three o'clock.
Since Sunday 13 September the church is open for the 11:00 o'clock a.m. service with the Adult Choir.
To attend we ask you register in advance so we can watch numbers and do contact tracing and that you wear a mask.
For additional information about this and all our other public and online offerings please visit Grace Church in New York.