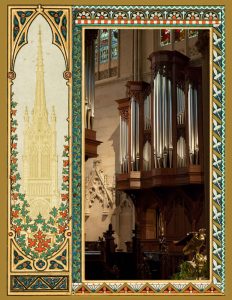 Thank you everyone who supported Bach at Noon, The Saturday Weekend Organ Meditations and Hymns from Grace during this unusual and challenging pandemic season.
Some 250 programs of the great repertoire of the pipe organ were offered between Labor Day and 21 May!
You are invited if so moved to help continue these offerings by making a gift either in the Alms box in the Narthex of the Church or by using this link.
Your gifts help keep the doors open, the lights on, the air flowing through the organ and the organists practicing.
The whole community is grateful for your support.
The summer season of Bach at Noon will be different this year.
With limited openings and staff schedules this summer as we prepare for full re opening in September,
Bach at Noon will be available on our Facebook page in encore programs.
This past season for the first time was completely archived on Facebook.
Please click and enjoy programs at your leisure.
Bach at Noon will return live in September.
The 2021 – 2022 Season of Bach at Noon will begin on Tuesday 14 September at 12:20 p.m.
The 2021 – 2021 Season of the Weekend Organ Meditations will begin on Saturday 11 September at 4:00 p.m.
The 2021 – 2022 Season of Hymns from Grace will begin on Sunday 12 September at 4:00 p.m.
If Music be the food of Love,
Play on…..William Shakespeare
We invite you to donate to your local food bank to help all in need especially during the pandemic.
Have a safe and beautiful summer.