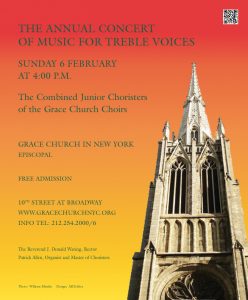 After a year off due to the pandemic
The Annual Concert of Music for Treble Voices
offered by the Novice and Junior Choristers of the Grace Church Choirs
will return.
With the pandemic still going on, it is not possible for our friend
Dr. Barry Rose to be with us this year.
He will be with us in spirit and in all he has taught
and inspired over more than 20 years working with
the choristers of Grace Church.
We will sing for and to him through the live stream offering of the program.
This year all our Senior Choristers and High School Singers
will join the Novice and Juniors as part of renewing our momentum
as we move into a new phase of life following the lock down and
safety precautions of the past two years.
It will be a special program, the choristers distanced and singing in masks.
Admission is like at all offerings at Grace Church,
one must be masked and show your vaccination card.
Compositions will include those by Archer, J.S. Bach, Copland, Dyson, Yon and Dr. Rose himself. The world premier of a new anthem by Dr. Rose based on a prayer of Ignatius of Loyola will take place at the concert.
This musical offering is free and open to everyone.
Live Stream Link for the concert