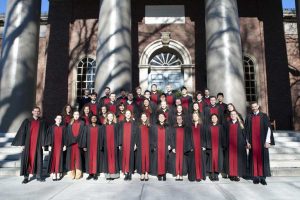 Grace Church welcomes the Harvard University Choir at noon on Tuesday 31 May.
For over 180 years the Harvard University Choir has provided a unique opportunity for student singers to perform choral literature at the highest level, both in concert and during the services of the Memorial Church.
Its program of daily choral services, broadcasts, tours, commissions, and recordings make it one of the premier college chapel ensembles in the United States, and each year the choir presents America's longest-running Christmas Carol Services to packed congregations. Highlights of recent seasons include concert performances of Monteverdi's L'Orfeo and Vespers, Haydn's The Creation, J. S. Bach's St. John Passion and Mass in B minor, C. P. E. Bach's Die Israeliten in der Wüste, Gluck's Orfeo ed Euridice, Handel's Athalia, Saul, and Messiah, Mozart's Requiem and Mass in C minor (in completions by Harvard Professor Robert Levin), Roxanna Panufnik's Westminster Mass, Alice Parker's Melodious Accord, Stephen Paulus's The Three Hermits, and Benjamin Britten's St. Nicolas. Committed to the presentation of new music, the choir has premiered works by today's most prominent composers, including David Conte, Tarik O'Regan, Alice Parker, Daniel Pinkham, Craig Phillips, and John Rutter.
The program on Tuesday the 31st of May will be drawn from works by Vittoria Aleotti, Claudio Monteverdi, Jonathan Dove, J. S. Bach, Undine Smith Moore, William Byrd, Gwyneth Walker, Anton Bruckner, and André J. Thomas
This program is free and open to all vaccinated persons. As the pandemic situation changes please use your judgment about masks in indoor spaces to keep yourself and your neighbor safe and well.