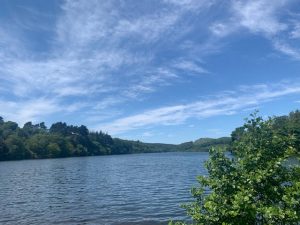 After a yummy breakfast it was check out time from our Dublin Hotel and the bus was loaded and boarded for the trip to Belfast.
We were treated to views of lush farms full of sheep and cows, many of the greens that give Ireland the nick name the Emerald Isle and beautiful sunny skies.
Crossing from the Republic of Ireland and into Northern Ireland, Euros changed into Pounds Sterling.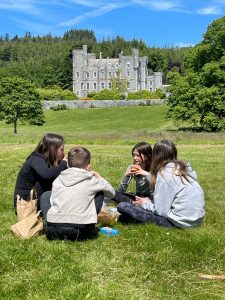 Leaving the motorway and traveling down narrow country roads we came to Loch Clough and Laund Clough, a beautiful lake and wooded park. The packed lunches were enjoyed and there was time to listen to the wind on the lake, enjoy the sun and have walks on the woodland trails.
From there we traveled to Downpatrick and visited the site of the graves of Saint Patrick, Saint Brigid and Saint Columba.
On that site is the restored ancient Cathedral of Saint Patrick that has portions dating back to 1183. Today there is still an active congregation. They were welcoming and we offered one of our favorite motets "Ubi caritas" set by Maurice Duruflé.
Following this very special visit down the hill we went to the Saint Patrick Centre. In the courtyard we gave an informal program of "Ubi caritas," Simple Gifts, Over the rainbow and the Wall Street Hymn. A nice crowd gathered. After the program we went inside to discover the story of Saint Patrick and his place in Ireland's history. As the main destination on the Saint Patrick Driving Trail which runs from Armagh to Bangor, the centre welcomes the casual leisure traveler, student groups and those with a knowledge of St Patrick that want to explore more detail about his background. It features an interpretive exhibit that tells the story of Ireland's Patron Saint. The visit begins with the impressive "In the Footsteps of Saint Patrick Imax presentation" about the life of the Saint and has aerial video footage of some of the associated landmarked historical sites
.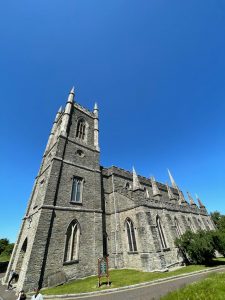 We boarded our bus and headed into Belfast to check in to the Hotel. Dinner at 7:00 followed and was so much fun and very delicious.
Time for a good night's rest. Tomorrow, it's Tuesday, must be Holywood and a big concert in the beautiful Parish Church of Saint Philip and Saint James in the evening.