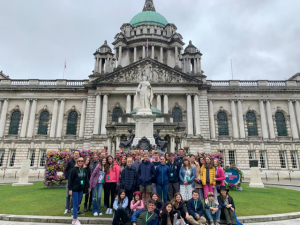 Seventh inning stretch.
Today was a gentle day to allow everyone to catch up on rest, work and family time.
After a good nights sleep and a tasty Irish breakfast the group went on a walking tour of the area around Saint Anne's Cathedral, Belfast where we will sing on Thursday.
From Sarah Fitzharding: "This morning we got our bearings in Belfast with a guided walking tour. Connor, our wonderful guide, took us around the Cathedral Quarter, known for being the cultural heart of the city, with many art galleries and restaurants, and named for St. Anne's Cathedral, where the choir will perform on Thursday. Belfast is a city of murals, and while in other parts of the city these bear testimony to the city's political divisions, in the Cathedral Quarter they reflect important aspects of the city's culture, such as being the birthplace of C.S. Lewis.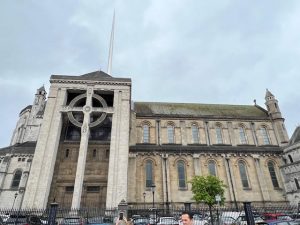 We began by walking to Belfast City Hall, an impressive building presided over by a statue of Queen Victoria. A little distance away, we then admired a tribute to her husband, the Albert Memorial Clock Tower, which famously leans to one side – Ireland's answer to the Leaning Tower of Pisa! We continued our stroll via the new Victoria Square shopping center, and then took in some pretty side streets with names like "Pottinger's Entry."
As we walked, we admired the elegant Victorian architecture, which is interspersed with concrete 1950s and '60s buildings because of the heavy bombing Belfast suffered in World War Two, being part of the United Kingdom. (Apparently Dublin was only bombed twice, and that was by accident.) We also learned about the lengthy Peace Process that ended the "Troubles" in Northern Ireland – many of us had not previously been aware of the major role that President Clinton played, prioritizing peace in Northern Ireland as part of his foreign policy, and appointing George Mitchell as his special envoy to guide 4 difficult years of negotiations, culminating in the 1998 Good Friday Agreement which finally brought peace. We were particularly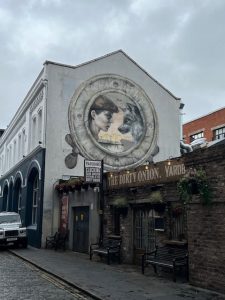 interested to hear about the important and challenging role of sports in these negotiations, since the two sides engaged in distinct sports. One of the bridges built was the introduction of a completely new sport to Ireland – ice hockey! The Irish were skeptical at first but it soon caught on and is now wildly popular, with the city being home to the Belfast Giants, named after Giant's Causeway which we will visit tomorrow!"
After a free afternoon for discovery and rest, we boarded the bus to the Church of Saint Philip and Saint James in Holywood. We were greeted by their Vicar, The Reverend Gareth Harron and their organist Edwin Gray. Gareth and Edwin welcomed us so warmly as did all the members of the parish young and old. It was an inspiring and moving evening.
"Ubi caritas"
Where charity and love are, there is God.
The love of Christ hath joined us in one.
Let us rejoice and be glad in him.
Let us fear and love the living God.
And love one another in sincerity of heart. Amen.
………The Antiphonary
There were many old choir boys present in their choir ties and an esteemed gentleman who was Head Boy at Saint Anne's Cathedral and sang for the coronation of HM Queen Elizabeth II. Magical.
Holywood Parish Church Tuesday, 21 June, 7:30 p.m.
PSALM 24. Domini est terra……..Anglican Chant (Barnby)
REJOICE IN THE LORD……..Anonymous (16th Century)
UBI CARITAS……..Maurice Duruflé (1902-1986)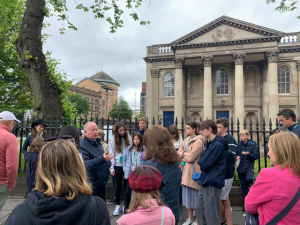 IF YE LOVE ME…….Thomas Tallis (c.1505-1585)
THE HEAVENS ARE TELLING, OPUS 48/4 ……..Ludwig van Beethoven (1770-1827)
JUSTORUM ANIMÆ…….C. Villiers Stanford (1852-1924)
UKRAINIAN PRAYER…….John Rutter (b.1945)
GOD SO LOVED THE WORLD…….John Stainer (1840-1901)
LOVE'S ENDEAVOUR, LOVE'S EXPENSE…….Barry Rose (b.1934)
STEAL AWAY…….African-American Spiritual, Harmonized and Arranged by H.T. Burleigh (1866-1949)
OVER THE RAINBOW…….HAROLD ARIEN (1905-1986) ARR. DARIN LEWIS
SICUT CERVUS…….Giovanni Pierluigi da Palestrina (c.1525-1594)
THE VIRGIN MARY HAD A BABY BOY…….arr. Robert De Cormier (1922-2017)
PSALM 150. Laudate Dominum…….Anglican Chant (Talbot)