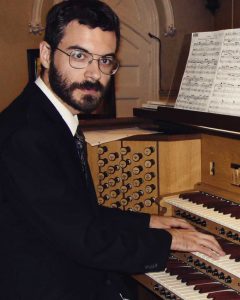 Join us as Grace Church welcomes organist
John A. Wolfe as guest artist for Bach at Noon on Tuesday 16 May at 12:20 p.m.
PROGRAM
Come, Holy Ghost, Lord God, BWV 651
Have Mercy, God, Father in Heaven, BWV 669
Christ, Comfort of All the World, BWV 670
Have Mercy, God, Holy Spirit, BWV 671
Prelude and Fugue in G Major, BWV 541
Dr. John A. Wolfe is a New York City-based organist, choral conductor and music educator. Currently Dr. Wolfe serves as Organist and Music Director at St. Philip's Episcopal Church, and as Senior Adjunct Professor of Fine Arts at St. Francis College, both in Brooklyn, New York. He's also a past Dean of the American Guild of Organists Brooklyn Chapter. As organ recitalist, his 2022 performance venues included Princeton University Chapel, the Basilica of the National Shrine of the Immaculate Conception in Washington, DC, and the Church of the Transfiguration in Manhattan. Wolfe holds the degrees of Doctor of Musical Arts from Rutgers University, where he studied with Renee Anne Louprette, Master of Arts from the Aaron Copland School of Music at Queens College, where he studied with Walter Klauss, and Bachelor of Arts from Vassar College, where he studied with Gail Archer. Wolfe is a native of Gettysburg, Pennsylvania.